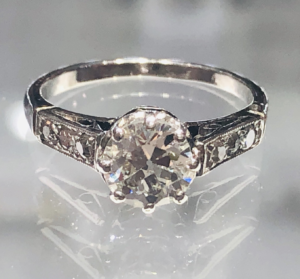 Congratulations, you've decided to take the next step in your relationship: buying an engagement ring! We understand that's when the real pressure begins. It can be stressful trying to find the perfect ring for someone who means so much to you, but the experts at Charles Schwartz have over 120 years of experience helping couples find the perfect engagement ring in DC.
We also understand, that as a guy, it can seem overwhelming, which is why a guide to understanding how to choose an engagement ring can be resourceful tool.
Here Are the Important Decisions You Are Facing When Buying an Engagement Ring in DC
Setting a Budget
Starting the process of selecting a ring with a budget in mind can help you explore the options that are best fit to your needs. The professionals at Charles Schwartz can help you balance quality and budget based on what is comfortable to you.
Start by thinking about her style. Maybe use some jewelry she has for reference and always stay alert to any hints she may be dropping.
There are many types of styles, from classic bands to pave settings, we can help you select the style that fits your needs.
Check out different types of settings here.
Choosing the Right Gemstone
Diamonds and sapphires are two of the hardest gemstones, making them hold up well to the everyday wear required of engagement rings. Maybe your girlfriend wants lots of diamonds, or a sapphire surrounded by diamonds. We're here to help you explore gems that are unique!
The shape is equally as important as the type of gem. Round is a very common choice, but there are others to consider such as a square cut (sometimes referred to as princess cut), cushion cut, marquise cut, oval and more.
Figure out Her Ring Size
If you've discussed this at length, then the quickest way to find out her size is asking! But if this is going to be a surprise proposal, subtilty will be key. Perhaps try using another ring from her jewelry box or ask her friends.