A piece of jewelry can be central to your identity, one of your reliable everyday accessories, or your favorite piece to wear on a night out. When one of our most loved pieces gets damaged or broken, you want to be sure that you bring it to professionals to get it fixed. Charles Schwartz & Son provides expert jewelry repair in Washington DC and is the go-to spot for quality service and amazing craftsmanship.
Jewelry can be one of the most sentimental and precious items we own. When it breaks or gets damaged, you'll want to bring it somewhere you trust. At Charles Schwartz & Son Jewelers, our professionally trained craftsmen specialize in a wide variety of skills. Charles Schwartz and Son repairs watches, rings, and other types of jewelry to increase the lifetime of your jewelry and bring your piece back to its most beautiful state.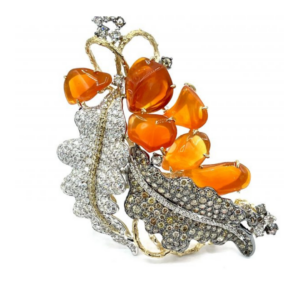 Ring and Brooch Repairs 
Our Master Platinumsmiths and Master Goldsmiths have over 100 years of combined experience in this field. They have done countless repairs of various types of jewelry, including work on custom pieces. Our craftsmen do everything from sizing a ring and designing custom pieces to converting brooches to pendants and ensuring your jewelry looks just like it did when you first purchased it. Through the repair process, our jewelers will evaluate the work that needs to be completed on your piece and explain the entire process in detail. Your jewelry is very important to us and we pride ourselves on approaching each piece with a unique and careful approach. 
Charles Schwartz and Son Jewelers' in-house Master Watchmaker is certified to work on all fine Swiss watches. This includes Patek, Rolex, Phillippe, Cartier, and many others. Our in-store service also allows us to avoid having to ship your valuables, allowing for quick repair and safe return back to you. Like other jewelry, all repairs guaranteed that your watch will look like the day it was first purchased.

Trusting Jewelry Repair in DC and Maryland
Charles Schwartz & Son is known for being the oldest jeweler in Washington DC. Since 1888, we have been based in the nation's capital and are proud to arguably be the most recognizable jeweler in Washington. We do everything we can to meet the jewelry needs and desires of our customers. Whether you need a piece sized, cleaned, fixed, or refurbished, Charles Schwartz and Son Jewelers is here to serve your every need.
Visit us or call 202-363-5432 for any questions about your jewelry repair.