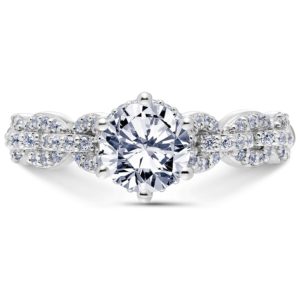 Are you thinking of proposing, but you're not sure how to get the ring she dreams of? Get your DC custom engagement ring designed to exact specifications. We'll help you design the ring she's always dreamed of and make sure it fits your budget.
One of the first big decisions you'll need to make is the setting of the ring. She may already have something in mind, but here are a few popular settings:
Halo– A halo is a fantastic option if she loves extra sparkle, and it gives the illusion of a larger center stone without the added cost.
Solitaire– Solitaire is one of the most classic styles. A great choice for the minimalist bride, or the bride who wants a large center stone that commands all attention.
Pave– A pave ring has smaller diamonds that go along the band to give it added sparkle. It can make the ring more eye-catching, and your significant other will likely enjoy the added diamonds.
3 Stone– A 3 stone ring features two smaller stones on either side of the center stone, again adding more bling.
Diamonds aren't your only option, and with gemstone engagement rings gaining popularity, you have plenty of options to choose from.
Sapphire– If she's idolized Princess Diana or Princess Kate, consider a sapphire. These stones are highly durable and come in all sorts of shades. They also tend to be a cheaper alternative to diamonds so you can get a bigger stone.
Emerald– Emeralds are another stunning alternative. Their striking green coloring is eye-catching and luxurious.
Diamond– They don't call diamonds a girl's best friend for nothing. As much as gemstones are on the rise, a diamond is a classic that, for some women, just can't be beaten.
Talk with The Experts to Design an Engagement Ring that is Completely Unique
Once you've had a chance to discuss, or at least get an idea of what your significant other wants in a ring, talk with jewelry experts who can help you design the one she'll say "yes" to.
The experts at Charles Schwartz have been assisting customers since 1888, and we can make her dream ring come to life. We'll go over all your options and design something that fits your budget and is custom made just for her.
To schedule an appointment to discuss your custom engagement ring options, call 202-262-5432, or reach out online.