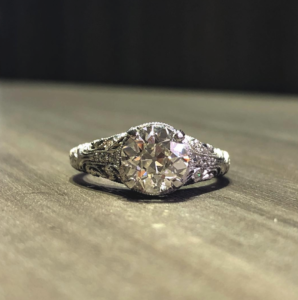 When you look back on this time in your life, you want to remember how special it was, not how stressful it was! With over 120 years of experience, the experts at Charles Schwartz can help with a personal consultation to aid in the process of designing the perfect custom engagement ring.
We have an extensive collection of fantastic gems, precious metals to help get you started on creating a one-of-a-kind piece.
Step 1: Consult with an Expert at Charles Schwartz
The experts at Charles Schwartz will discuss overall style you would like as well as help you through the important considerations to make when selecting a diamond such as carat weight, cut, color and clarity.
If you have a design idea, let's discuss it during the consultation. Feel free to explore our website for inspiration as well.
We pride ourselves on our customer service and want the consultation to be a positive experience.
Once you feel comfortable with how you want to move forward, you can choose the setting, the exact gemstone and carat size, the size of the ring.
Does she like pave or is she an avid traditionalist? Does she want a princess cut or pear cut? You and the experts will work together to pick the details based on your budget and needs.
Step 3: Review the final piece
The number one priority at Charles Schwartz is your satisfaction in the final result. We will review the final engagement ring to make sure that your one-of-a-kind engagement ring is exactly as you specified. We take pride in our name as one of the most recognizable jewelers in Washington DC.
Contact Charles Schwartz today for assistance in creating a one-of-a-kind custom engagement ring in three easy steps.