Finding the Perfect Engagement Ring in Washington, D.C.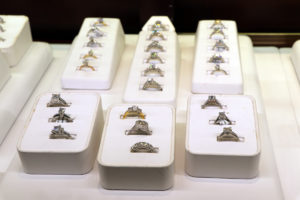 Purchasing an engagement ring is a big step. Not only can engagement rings be a big investment, but it's something you or your fiance plan on wearing forever, so it is imperative that you find the right ring.
We've been around since 1888, so we've definitely seen many engagement ring trends come and go. However, this also means we are experts in determining the perfect ring for you or your fiance, based on lasting beauty and quality. Whether the engagement is a complete surprise, or you plan on shopping for the perfect ring together, here are three important things to consider when selecting the right engagement ring:
Choose a Jeweler you Trust

For an item as intimate as an engagement ring, an experienced jeweler can make the biggest difference. Our experts at Charles Schwartz know that finding the right engagement ring is a collaborative experience, so we take great care in understanding what you are looking for in your dream engagement ring. Not only do we value the importance of your choice, but at Charles Schwartz, we have an amazing variety of engagement rings for you to choose among, from estate to vintage to designer to custom, we're sure to have the perfect engagement ring for you.

Decide on the Right Band

Here at Charles Schwartz, we have a large range of materials available for your ring's band and setting. Each setting can alter the look, feel and value of the ring in a major way, making this decision just as important as the choice of stone within the engagement ring. Many women already have a personal preference of a specific metal when it comes to jewelry. That makes choosing whether the band of metal for your engagement ring will be platinum, white gold, yellow gold, or rose gold, a very intimate choice. The band can also come in varying styles, which can include intricate detailing, precious stones, engravings, or more, to give your engagement ring that special personal touch.

Choose the Right Diamond

The quality and value of a center stone is usually considered the most important feature of an engagement ring. While diamonds are often the most popular choice for an engagement ring's center stone, we at Charles Schwartz have seen everything from pearls to sapphires. However, diamonds, in particular, are determined by four characteristics: color, cut, clarity, and carat. Each is measured on its own scale and a diamond can vary in each characteristic, making the choice of diamond a very unique one. Discussing the differences in these characteristics with your jeweler is a very important step in determining which diamond or center stone is exactly right for your engagement ring. Additionally, here at Charles Schwartz, we offer a vast range of center stone shapes for you to choose from. The most popular shapes include Asscher, Cushion, Emerald, Heart, Marquise, Oval, Pear, Princess, Radiant and Round. We at Charles Schwartz are experts in our field, and value the important decision you're making, finding the right engagement ring. We are here to help every step of the way!
For more than 100 years, those looking for engagement rings in DC have trusted Charles Schwartz to help them find the perfect ring, in a relaxed environment. We'd be delighted to help you – love stories start here!