Yellow diamond jewelry has become increasingly popular this season in particular, renowned for its rich, golden hue and praised for its vibrant look. Many have fallen in love with the elegant, sophisticated look of yellow diamonds, and let's be honest—who could blame them?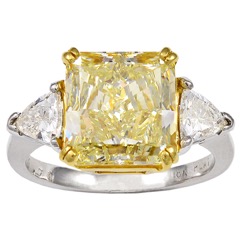 It should come as no surprise that yellow diamond pieces like this 5.04 Carat Radiant Cut Yellow Diamond & Platinum Ring have taken the jewelry industry by storm this season with their striking allure and intense golden hue (compared to their seemingly bland colorless counterparts).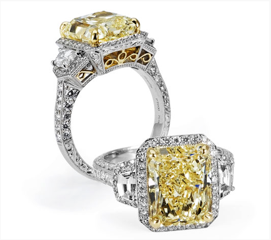 In addition to its striking presence, yellow diamonds capture the warm rays of the summer sun perfectly with their golden tone—offering a refreshing sunny style for your spring and summer wardrobe. For those who haven't considered a yellow diamond piece before, it is certainly a trend well-worth exploring!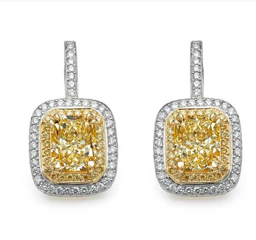 The quality and worth of yellow diamonds are determined largely by the stone's color based on a spectrum ranging from weak toned yellow diamonds (referred to as Light Yellow Diamonds), to medium yellow hues (referred to as Fancy Yellow Diamonds, or Canary Diamonds). Fancy Vivid Yellow Diamonds sit at the other end of the yellow diamond spectrum, renowned for their distinctive, fully-saturated, vivid yellow hues. Yellow diamonds at this end of the spectrum are by far the rarest and most coveted of all stones on the yellow diamond spectrum.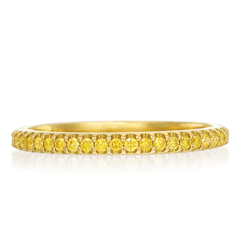 Surprisingly, natural yellow diamonds are a far more common find than colorless diamonds, which is great news! Yellow diamond jewelry like this Yellow Diamond Wedding Band by Armadani are the best of both worlds—offering the iconic allure and hallmark sophistication of diamond jewelry, but at a lower price point.  No wonder yellow diamond jewelry has become so popular!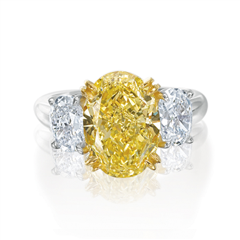 Today you can find yellow diamonds in all cuts —from traditional cuts like this 3-Stone Oval Ring by Armadani to Asscher, Marquise and anywhere in-between!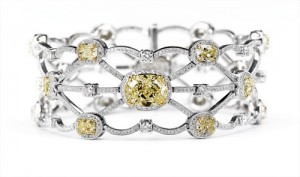 Not only are yellow diamonds offered in every cut imaginable, nowadays they have been incorporated into a wide range of stunning pieces, like this Yellow & White Diamond Lattice Bracelet by Michael Beaudry.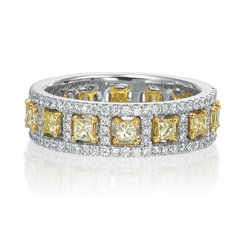 With summer just around the corner, there's no doubt that the yellow diamond trend will truly flourish this season with its trademark diamond sparkle and intense sunny hue! The yellow diamond trend is one to watch this spring, as pieces like this Yellow Princess-Cut Diamond Eternity Ring by Armadani continue to intrigue and impress the masses. These unique rays of sunshine will surely be treasured for a lifetime!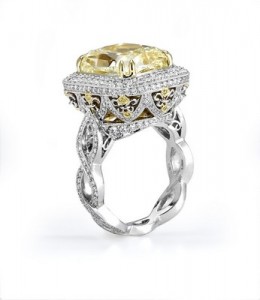 The striking allure and unique dazzle of yellow diamond jewelry like this Yellow Cushion-Cut Diamond Ring by Michael Beaudry is only part of the sensational beauty of yellow diamond jewelry. With summer quickly approaching, now is the time to capture the golden sun rays of summer with a new piece of yellow diamond jewelry! Stop by Charles Schwartz & Son today and you're sure to find the yellow diamond-studded piece of your dreams.
Source: https://www.diamonds.pro/fancy-color-diamonds/canary-yellow/