Looking for a trusted jewelry professional to appraise your priceless or cherished jewelry? Have you been wanting to sell your estate jewelry but just don't know who to turn to? Visit Charles Schwartz & Sons for trusted jewelry appraisals, buying, and selling.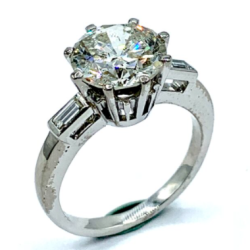 At Charles Schwartz & Sons we have a passion for jewelry and love to help people find pieces that they will cherish forever. If you are stopping by to sell or even pick up something new for your collection, we are ready to help you.
When selling a piece of jewelry we know it can be stressful, sometimes even emotional to part with it. Oftentimes family heirlooms or personal belongings are the hardest pieces to let go of.
Since 1888, Charles Schwartz & sons has been buying and selling jewelry in the Washington D.C. area. The jewelry experts make the selling process easy and trustworthy. Our staff is knowledgeable of antique, vintage, and estate jewelry and will evaluate your pieces to offer you the highest possible price. We work to treat each customer with the utmost care, expertise, and of course, confidentiality.
We will assess, offer, and potentially purchase your jewelry.
To start, one of our expert jewelers will assess your piece or prices. Looking at aspects of the jewelry piece such as its weight, material, markings, and or any other analyzable details about that said piece. This process is typically quick, depending on the types and amounts of pieces. To avoid any kind of wait time, we always suggest making an appointment.
After we begin assessing your piece of jewelry, we will either politely decline or make you an offer based on our appraisal. Our jewelers have years of expert experience in appraising vintage and estate jewelry, so you can feel at ease knowing you are in good hands and will be offered a fair price.
If you then choose to accept the offer we provide, we will pay you right then. There will typically be no waiting, no auction fees, and no hassle. Additionally, if you would like to take a look around for a new piece, we are more than happy to walk you through our extensive collection.
As arguably the most recognizable and finest jewelers in the nation's capital, we take great pleasure in meeting the jewelry needs of our customers for over 100 years. Started in 1888 by the Schwartz family, later passed on to the Pastor family in 1984, Charles Schwartz & Sons is your family jeweler. We have had the absolute honor of servicing the dignitaries of Washington D.C. and the entire world. We take great pride in our fine jewelry selection, pristine condition designer pieces, diamond rings, precious metals, and much more.
Identifying Your Pieces Before Selling Your Estate Jewelry
Jewelry has played a significant role in society, capturing the hearts of many with a wide variety of ever-changing trends, designs, and fads throughout history. The estate jewelry experts at Charles Schwartz & Son are well-versed in dating and classifying estate jewelry and are happy to answer any questions you may have about estate jewelry.
However, if you are curious about what era your estate jewelry may be prior to your consultation appointment at Charles Schwartz & Son, consider the following characteristics of your estate jewelry to help you determine which era your estate jewelry might fall under:
Metal(s): the type of metal(s) incorporated into the design of a piece of estate jewelry, along with the metal's karat weight, can reveal a great deal about the age and relative origin of a piece of estate jewelry.
Gemstone(s): although gemstones have been a staple of high-end jewelry design for centuries, the popularity of specific gemstones varied amongst eras.
Prominent Motifs Present in Design: subtle design details and motifs found in estate jewelry are arguably the easiest "tell" of the piece's age or era of origin.
A piece of jewelry is considered "antique" if it is over 100 years old. Antique jewelry was crafted from high-quality materials with a superior level of craftsmanship, leading to sturdy, high-quality pieces. For this reason, in addition to the old age and relative scarcity of antique jewelry, the majority of antique pieces are too valuable to be worn or displayed. We are antique, vintage, and estate jewelry buyers.
Eras of jewelry can include:
Georgina Era (1717-1837)
Victorian Era (1837-1901)
Arts and Crafts Era (1894-1923)
Edwardian Era (1901-1915)
Art Nouveau Era (1895-1915)
You can reach Charles Schwartz & Sons at 202-363-5432 to schedule an appointment for selling your estate jewelry or visit us in person today.