When buying an engagement ring, the jewelry becomes an extension of you, your partner, and the future you share. Different rings have different personalities, styles, eras, and more.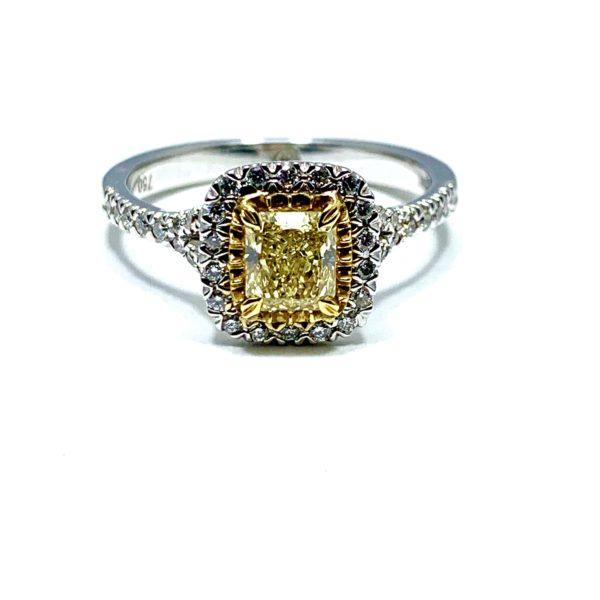 At Charles Schwartz & Sons we are experts in finding the perfect engagement ring for you and your partner. Each ring has been carefully picked and represents something unique about the individual who picks it! Charles Schwartz & Son is Washington DC's oldest jeweler. Based in the nation's capital for over 100 years, we take pride in our name as arguably the most recognizable and finest jewelers in Washington.
We take great care in meeting the jewelry needs of our customers. Whether refurbishing a family heirloom or finding the right gift for that special occasion we are here to serve you. With expert knowledge about different jewelry eras, stones, ring design, metals, and more – we are sure to find the right engagement ring for anyone and everyone.
Finding Designer & Unique Engagement Rings
Interested in adding to your tasteful collection of jewelry accessories? Our Washington, DC jewelry stores will help you find the perfect new addition, with impeccably tailored watches, engagement rings, brooches, pendants, and more fine jewelry to select from.
Want to know what your designer engagement ring style says about you? Read about your future ring and what it means to you!
Hearts on Fire is a diamond-studded halo that encircles a perfectly cut round center diamond, creating the illusion of an oval shape, by Hayley Paige. 
This ring, like you, stands out in the crowd and is admired by many. Hearts on Fire is a gorgeous ring that radiates the light of the person who wears it. Sparkly and understated, this ring is for a person who never lets others dull their shine!
Scott Kay Heaven's Gate 0.49ct Diamond Mounting ring in 18 Karat White Gold, is encrusted with beautiful diamonds to make any heart sing.
This ring transcends time, just like the person that wears it. This ring is timeless and elegant. Your love for your partner will shine with this ring, embodying your loving commitment.
Welcome to a distinctive collection of vintage jewelry in Washington, DC. With our experience as the oldest jewelry store in DC, you gain an exclusive selection of elegantly handpicked vintage jewelry and engagement rings. Explore our assortment today and find the perfect engagement ring for you and your partner. 
A natural 4.21-carat emerald cut Colombian emerald, with surrounding 1.10 carat round diamonds in a yellow and white 18 karat band.
This ring, like you, is adored by all. With bright colors and stunning diamonds, this ring is admired and always receives a standing ovation. The person who wears this ring embodies its clarity and showstopping personality. You can be sure to stop people in their tracks when you enter a room, especially when wearing this ring! This ring is for the shining star in your life.
A simply beautiful Art Deco cabochon white opal and Diamond 14k rose gold cocktail ring, with a European cut, is sure to make any heart sing.
Just like you, this ring loves vintage charm, straying away from the traditional trends, and being true to itself. This ring is for anyone who has impeccable style, is poised, and of course fun! There's nothing the person wearing this ring can't do. This ring elevates any look whether it's sweatpants or a floor-length gown!
If none of these rings describe you or your partner, do not fret. Browse our designer and vintage engagement rings to find a ring that speaks to you!
In addition to engagement rings we also have:
Wedding Bands

Rings

Bracelets

Brooches

Cufflinks

Necklaces

Watches

and more!
You can browse our online selection or visit in stores to try on some of our beautiful jewelry pieces.
When you come in for a consultation we'll discuss your budget, style preferences, stone preferences, and timeline to come up with a few options for you. We're prepared to help you buy a ring today or simply help you narrow down your search for the right ring.
Charles Schwartz has a collection of designer, vintage, and antique jewelry in a variety of styles. We carry a wide range of designers including Hearts on Fire, Robert Procop, Alor, and Beaudry to name a few, as well as having special vintage and estate pieces from places such as Cartier and Tiffany. However, if you don't see exactly what you're looking for in-store we can also help you design something custom that meets your jewelry needs.
Started by the Schwartz family in 1888 and passed on to the Pastor family in 1984, Charles Schwartz & Son is your family jeweler. Charles Schwartz & Son Jewelers has had the honor of servicing the dignitaries of Washington and the world. Along with them, we welcome you to be a part of our family.
We invite you to stop in and visit us at any time. Our highly knowledgeable team aims to help you find the perfect ring for your proposal and get you exactly what you're looking for.