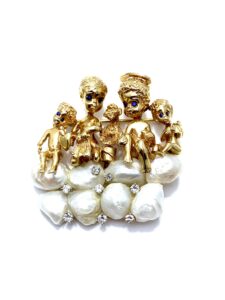 When it comes to selling your antique, vintage, and estate jewelry pieces you want to ensure you're getting the best price. Sometimes it can be hard to part with these pieces as they are often family heirlooms or gifts from a loved one. However, if you're no longer wearing the piece, or you're looking to earn some extra money, the experts at Charles Schwartz can help.
When you come to one of our stores we'll carefully inspect your pieces before coming up with a price. We consider a variety of factors when pricing an item including the rarity of the piece and its condition. Our jewelry experts are highly trained and educated. We aim to offer you a fair price for your pieces, find them a new home where they'll be worn, and ensure you're happy with the price we offer. We know how valuable each piece can be to you and the sentimental value it may hold.
We will happily go through our process with you and answer any questions you have about pricing so you understand why and how we price items.
Finding a New Piece Once You've Sold Your Antique Jewelry 
While you're here, if you feel the need to add a new piece to your collection to replace the piece, or pieces, you're selling we will guide you through our vast collection of vintage and antique jewelry. We have a variety of rings, necklaces, brooches, watches, earrings, and more. Whether you have something specific in mind or you need help picking something out, we're always happy to help you find the right piece to add to your collection.
To schedule a consultation with one of our expert jewelers to sell your antique jewelry in DC call 202-363-5432 or click here.