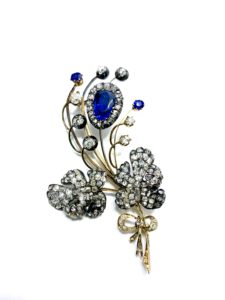 If your jewelry box is a mess with the jewelry you never wear, or you have inherited pieces that just don't fit your style, we can help. Selling estate jewelry in DC can be an emotional process if your pieces have sentimental value. If they're collecting dust and you want to make sure they go to good use, turn to the experts at Charles Schwartz
Once you've decided it's time to part ways with your antique, vintage, or estate pieces, you'll want to sell them to a jeweler who understands their value.
At Charles Schwartz, we understand the memories and sentimental value a piece of jewelry can hold, but you may find it's impractical to hold on to pieces you don't wear, especially when you can replace it with newer pieces that will bring you joy.
When selling your estate jewelry to a trusted jeweler like Charles Schwartz, you can expect:
Professional service– Our jewelry experts will take their time examining your pieces and provide a full explanation of the amount we offer as well as answer any questions you have.
A fair price– Our jewelers are trained and highly skilled in evaluating jewelry, so when you come to us, you know you're getting a fair price for your pieces. We purchase designer, vintage, antique, and estate jewelry at competitive prices.
Assistance finding a new piece– If you're hoping to find something new to add to your jewelry collection, we'll be happy to walk you through our wide selection so you can find a new piece to cherish.
Now that you've sold your estate jewelry, you have room for new items. We have an extensive jewelry collection and will help you find the perfect piece to refresh your collection. Whether you're looking for a brand-new designer piece or something from our vintage and antique collection, you're sure to find something you love.
Reach out online or call 202-363-5432 to discuss selling your estate jewelry with one of our jewelry experts.