Looking for antique jewelry pieces to add to your collection? Charles Schwartz & Son has some of the best antique jewelry in the Washington DC metro area. As seen in BRIDES, Charles Schwartz & Son is the home of your future family heirloom.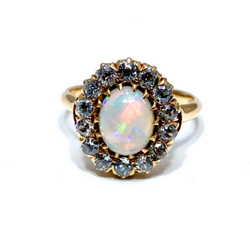 Since 1888, Charles Schwartz & Son has been a DC family-run business with decades of experience in showcasing the most exquisite and high-end vintage, designer, and antique jewelry.
Charles Schwartz & Son is Washington DC's oldest jeweler. Based in the nation's capital, we take pride in our name as arguably the most recognizable and finest jewelers in Washington. We take great care in meeting the jewelry needs of our customers. Whether refurbishing a family heirloom or finding the right gift for that special occasion, we are here to serve you.
Started by the Schwartz family in 1888 and passed on to the Pastor family in 1984, Charles Schwartz & Son is your family jeweler. Charles Schwartz & Son Jewelers has had the honor of servicing the dignitaries of Washington and the world. Along with them, we welcome you to be a part of our family. We invite you to stop in and visit us at any time.
Best Antique Jewelry Pieces In DC
At Charles Schwartz, we offer a variety of different pieces of jewelry and provide various services. Some may include:
Earrings
Necklaces
Cuff links
Watches
Engagement rings
Diamond Rings
Watch repairs
Appraisals
Buying jewelry
Antique jewelry
Estate jewelry
Vintage jewelry
Our estate jewelry can feature vintage or estate pieces containing items from different eras. We offer pieces from the Edwardian Era, the Art Deco era, and more at our jewelry stores in DC and Maryland. We take great care in all of the pieces we sell, whether jewelry, watches, or gemstones.
Buying fine jewelry can be considered a beautiful and stylish investment. Vintage pieces are often worn as they are less rare and often follow current fashion trends more closely.
The question of antique vs. vintage has always been important to some, but we've learned that it's most important to find something you love. If you're dead set on finding a specific era of jewelry, we're more than happy to help you find what you're looking for and can walk you through the specifics of each piece. If f you're simply looking for something with a bit of age, charm, and character we're sure to find the right piece for you.
Buying The Best Antique Jewelry In DC From The Most Popular Eras
There are many eras that are considered to be part of the antique jewelry market. Charles Schwartz & Son buys and sells jewelry from many of these eras. Some of these eras include:
Georgina Era, 1717-1837
Victorian Era, 1837-1901
Arts and Crafts Era, 1894-1923
Edwardian Era, 1901-1915
Art Nouveau Era, 1895-1915
Each era has its own style, metals, and motifs. There is a wide range of options in each era, some being engagement rings, earrings, and more. You can learn all about the various eras on our website and pick one that sounds most like you.
If you are looking to sell your antique jewelry in DC, Charles Schwartz & Son also appraises and buys jewelry pieces.
With over 130 years of experience in the Washington DC jewelry industry—you can trust Charles Schwartz & Son to consult on any and all of your jewelry-related needs! We can help appraise your piece with a confidential service, offering the best possible price.
If you are looking to buy the best antique jewelry in DC visit Charles Schwartz & Son today.