Are you looking for a unique piece of estate jewelry in the Washington DC area? Charles Schwartz & Son has diamond rings, engagement rings, watches, and more!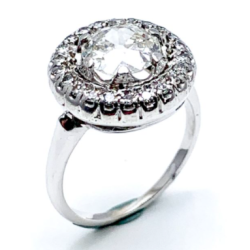 One-Of-A-Kind DC Area Estate Jewelry
Estate jewelry can be designer, vintage, and even antique. Jewelry continues to play a large role in our society, capturing the hearts of many. With a wide variety of ever-changing trends and designs, jewelry proves to be a timeless investment.
At Charles Schwartz & Son, our estate jewelry experts are well-versed in dating and clarifying estate jewelry pieces; we are happy to answer any questions you may have about estate jewelry.
Estate jewelry will vary depending on the era it comes from. Estate jewelry can be vintage or antique, with different qualifications for each.
Vintage jewelry pieces will be more than 50 years old but less than 100. Vintage jewelry is often worn and displayed as it is less likely to break due to its relatively young age. However, antique jewelry is over 100 years of age and often can be too rare to wear. Antique jewelry pieces are made with high-quality materials and can feature a superior level of craftsmanship from their time.
We purchase fine antique jewelry and gems from a variety of jewelry eras, including:
Georgina Era (1717-1837)
Victorian Era (1837-1901)
Arts and Crafts Era (1894-1923)
Edwardian Era (1901-1915)
Art Nouveau Era (1895-1915)
We purchase fine vintage jewelry and heirlooms from a variety of jewelry eras, including:
Art Deco Era (1915-1935)
Retro Era (1945-1960)
Estate jewelry in DC can be either antique or vintage due to the ownership of the piece. Jewelry is considered "Estate" if the piece of jewelry in question has a previous owner. While the previous owners of a considerable percentage of estate jewelry have indeed passed away, the vitality of the previous owner has nothing to do with a piece of jewelry's status as estate jewelry.
Age has nothing to do with whether or not a piece of jewelry is classified as "Estate". Although many estate pieces on the market today may be 50, 100, or even 150+ years old, age is not a determining factor when it comes to classifying jewelry.
If you are curious about what era of jewelry you may have in your own collection, you may want to consider the following characteristics and visit our stores.
Metal(s): the type of metal(s) incorporated into the design of a piece of estate jewelry, along with the metal's karat weight, can reveal a great deal about the age and relative origin of a piece of estate jewelry.
Gemstone(s): although gemstones have been a staple of high-end jewelry design for centuries, the popularity of specific gemstones varied amongst eras.
Prominent Motifs Present in Design: subtle design details and motifs found in estate jewelry are arguably the easiest "tell" of the piece's age or era of origin.
Jewelry Stores That Sell Estate Jewelry In The DC Area
Charles Schwartz & Son is Washington DC's oldest jeweler. Based in the nation's capital for over 100 years, we take pride in our name as arguably the most recognizable and finest jewelers in Washington. We take great care in meeting the jewelry needs of our customers. Whether refurbishing a family heirloom or finding the right gift for that special occasion, we are here to serve you and your jewelry needs.
Call Charles Schwartz & Son for all of your DC area estate jewelry needs.