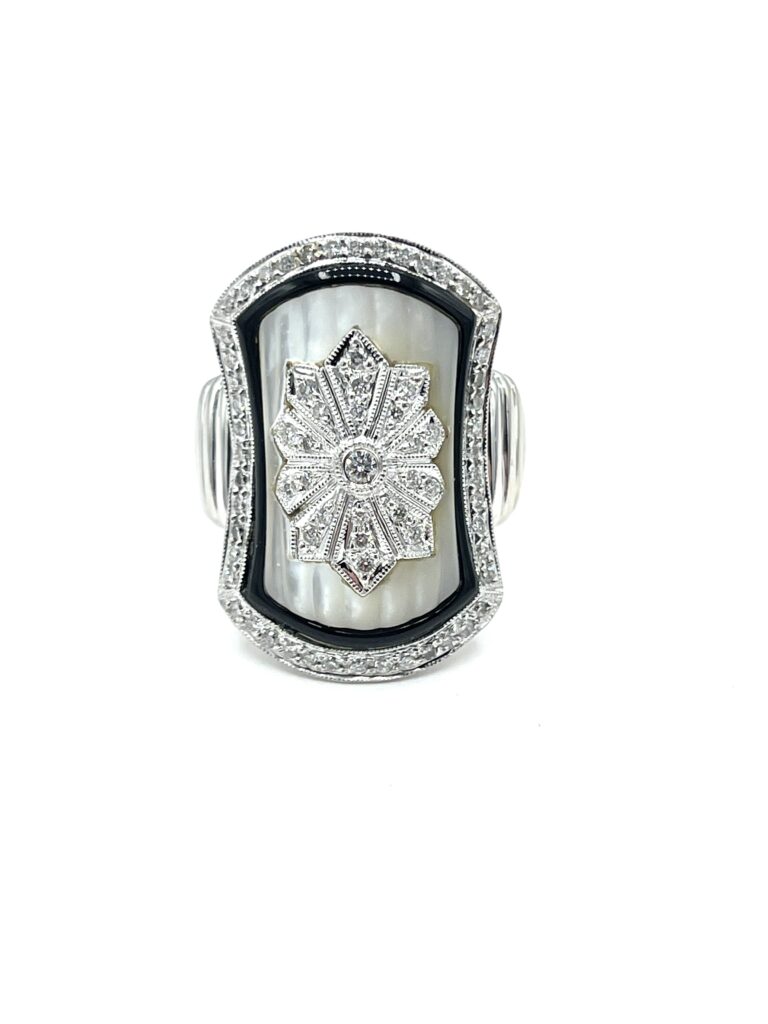 If there are certain pieces of jewelry you are interested in but want something a bit more unique, antique jewelry may be the way to go! Our store has engagement rings, diamond rings, earrings, necklaces, and more that will pique your interest and introduce you to all sorts of historic jewelry eras.
We also offer designer pieces, estate pieces, and vintage pieces in addition to our collection of antique jewelry and watches. Started by the Schwartz family in 1888 and passed on to the Pastor family in 1984, Charles Schwartz & Son is your family jeweler. We have had the honor of serving the dignitaries of Washington and the world. Along with them, we welcome you to be a part of our family. We invite you to stop in and visit us at any time.
Why buy a modern piece of jewelry when you can buy fine jewels with a bit of history. Jewelry has played a significant role in society, capturing the hearts of many with a wide variety of ever-changing trends, designs, and fads throughout history.
The estate jewelry experts at Charles Schwartz & Son are well-versed in dating and classifying antique jewelry and are happy to answer any questions you may have about antique jewelry.
Based in the nation's capital for over 130 years, we take pride in our name as arguably the most recognizable and finest jewelers in the Washington area. Whether refurbishing a family heirloom or finding the right gift for that special occasion, we are here to serve you.
Fine Jewelry Repairs In DC
Not only do we buy and sell antique jewelry, but we also repair it! Whether you are interested in watch repair or looking to resize your grandmother's cocktail ring, our master jewelers can help assist you.
We understand how delicate vintage jewelry can be, which is why we have expert jewelers available to appraise, repair, and return your piece of jewelry to pristine condition.
Our in-house Master Watchmaker is certified to work on all fine Swiss watches, including Rolex, Cartier, Patek Phillippe, and many others. By having our in-store service, we avoid shipping your valuables, enabling us to complete the repair quickly.
Our jewelers will be happy to help you with any jewelry needs you have, from sizing a ring to converting a brooch into a pendant. Your jewelry is very important to us, so please don't hesitate to let us know how we can be of service.
All repairs are guaranteed, and your jewelry or watch will look like the day it was first purchased.
Our Selection Of The Best Antique Jewelry In DC
We offer antique jewelry from various eras. Some of these eras of vintage or antique jewelry periods include:
The Art Deco Era
The Edwardian Era
The Retro Era
The Georgian Era
The Victorian Era
and more!
Within these eras, we have various types of fine jewelry to offer. This includes pieces such as:
Rings
Cocktail Rings
Engagement Rings
Wedding Rings
Bracelets
Necklaces
Watches
Brooches
Cufflinks
Unique and Novelty Items (have you seen our turn-of-the-century coin purse?)
Gold Jewelry
Silver Jewelry
Platinum Jewelry
White Gold Jewelry … and the list goes on!