Started by the Schwartz family in 1888 and passed on to the Pastor family in 1984, Charles Schwartz & Son is your family jeweler.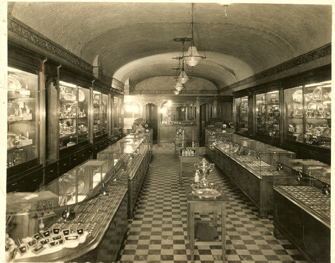 Charles Schwartz & Son Jewelers has had the honor of servicing the dignitaries of Washington and the world. Along with them, we welcome you to be a part of our family. We invite you to stop in and visit us at any time to shop for the best DC area estate jewelry.
I went into this jewelers with no idea of what I wanted. The store was beautifully laid out and the staff was very knowledgeable and courteous. There was absolutely no pressure! I walked out not only a great deal smarter, but with a lovely piece of jewelry.

-Karen Harrington, Google Review
Wondering what type of estate jewelry you should buy? Charles Schwartz & Son has you covered! We offer a variety of jewelry pieces that may fall under the estate jewelry category.
Our jewelry may include:
Earrings
Engagement Rings
Brooches
Barrettes
Cocktail Rings
Cufflinks
Watches
and more!
Estate pieces can be defined as pieces that have had a previous owner.
However, this doesn't have to mean that the estate piece was owned by someone who has passed. Many people who have sold their estate jewelry to stores such as ours are still living.
While the previous owners of "estate jewelry" have sold their jewelry for whatever reason, this does not change the piece's status.
Another common misconception is that age has nothing to do with whether or not a piece of jewelry is considered an estate piece. Many pieces of jewelry may be over 50-150+ years old; however, the determining factor remains with the previous ownership.
Who Sells DC Area Estate Jewelry?
At Charles Schwartz & Son, we have over 130 years of experience in handling estate jewelry pieces. We have jewelry professionals that can help date your piece or pieces you are interested in purchasing with us. We also buy estate jewelry and can help you through the buying and selling process.
We not only offer estate pieces but vintage pieces, estate antique pieces, and more. We have a wide range of selections and knowledge in the various types of period pieces, always happy to answer any and all questions you may have about a particular piece.
Charles Schwartz & Son not only sells jewelry, but we also purchase! You can bring your estate jewelry pieces to our stores, where we can provide appraisal services and offer you the highest possible price for your piece of jewelry.
We also buy and sell other fine jewelry pieces, such as designer jewelry and vintage jewelry. We have an extensive collection at our Washington DC and Chevy Chase stores, providing expert jewelry knowledge and information about various jewelry and watches.