Based in the nation's capital for over 130 years, Charles Schwartz & Son is Washington DC's oldest jeweler.
Started by the Schwartz family in 1888 and passed on to the Pastor family in 1984, Charles Schwartz & Son takes pride in our name as arguably the most recognizable and finest jeweler in the Washington DC area. We take extreme care in meeting all of our customer's jewelry needs, whether it be refurbishing a family heirloom or finding the right gift for that special occasion.
As we continue to grow our legacy, Charles Schwartz & Son invites you to become a part of our ever-growing family.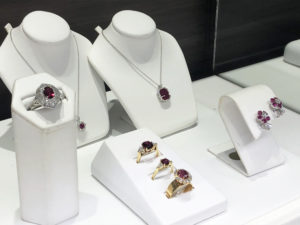 What Does Charles Schwartz & Son Offer at their DC Jewelry Store?
Charles Schwartz & Son is proud to offer a wide variety of services and jewelry to their customers. Our jewelry ranges from vintage, estate, designer, and antique and is from eras such as the Art Deco Era and the Victorian Era. Our designers include well-known companies such as Hearts on Fire, Armadani, and Hidalgo. We also offer a wide selection of jewelry types, from brooches and necklaces to rings and cufflinks.
Additionally, our jewelry services provide our customers with various kinds of assistance to match all their jewelry needs.
Jewelry Repair: Charles Schwartz and Son employs Master Platinumsmiths and Master Goldsmiths with over 100 years of combined experience to repair any damaged jewelry that you bring into our store.
Watch Repair: We also offer an in-house Master Watchmaker that is certified to work on all fine Swiss watches to repair your broken timepieces. This includes brands such as Patek Phillippe, Rolex, Cartier, and many others.
Financing: Special financing through Wells Fargo Financial National Bank is also available to our customers upon request.
In addition to selling jewelry out of our storefronts, Charles Schwartz & Son also buys your jewelry on-site and will compensate you fairly for your fine jewelry, gemstones, silver, gold, and more.
Below, you will find a list of our storefront locations. Find the closest store to you and come visit us so you can experience the Charles Schwartz & Son difference for yourself.
The Willard Hotel
1400 F Street NW
Washington, DC 20004
Phone: 202-737-4757
The Barlow Building
5454 Wisconsin Ave
Suite 404 (Ground floor next to the entrance)
Chevy Chase, MD 20815
Phone: 202-363-5432
Please call 202-363-5432 or visit our website to learn more about the best jewelry store in DC.