pieces? Charles Schwartz & Sons is the place to go for all of your estate, vintage, and designer jewelry needs. We have expert jewelers ready to give appraisals or showcase some of our estate pieces for sale.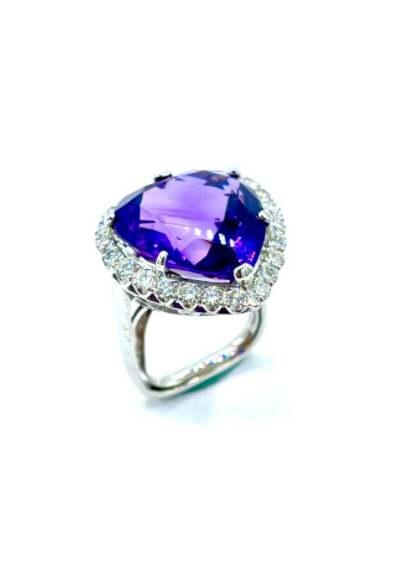 Estate jewelry can vary from metals, gems, and eras of time. Jewelry captures the hearts of many with a wide variety of ever-changing trends, designs, and fads. The estate jewelry experts at Charles Schwartz & Son are well-versed in dating and classifying estate jewelry and are happy to answer any questions you may have about estate jewelry.
Charles Schwartz & Sons can help you identify what era your piece comes from and various characteristics that give insight into the time period it was made.
Charles Schwartz & Sons Estate Jewelry
When visiting our stores, we can discuss the various types of metals, stones, and the history of our estate pieces. We can also guide you through our estate collection to help locate the perfect piece of your dreams or even the vintage piece you never knew you'd fall in love with. If you are looking to treat yourself or a loved one, we are happy to help look for a gorgeous piece to add to your collection. Buying jewelry doesn't have to be daunting when you have experts in designer, antique, and or vintage jewelry.
We have a range of estate jewelry collections including:
Estate engagement rings – Estate engagement rings are continuing to become a popular choice for couples. Many brides express their love for elegant and unique rings that one-of-a-kind more often than not
An estate cocktail ring – Cocktail rings can be worn daily or for any special occasion. There are estate gemstone cocktail rings, all with different styles to consider.
Estate earrings – Vintage and estate earrings can be a showstopper. They make a beautiful gift that your partner or loved one can cherish for a lifetime.
Estate necklaces – Vintage and estate necklaces are the perfect gifts for daily or special occasion wear.
Estate jewelry for men – There is also a variety of vintage pieces such as timepieces or cufflinks that can freshen up a classic look.
At Charles Schwartz & Sons we also buy individual's estate, vintage, and or antique jewelry pieces.
Since 1888, Charles Schwartz & Son has been buying and selling the finest antique jewelry in the Washington D.C. area. The antique jewelry experts here at Charles Schwartz & Son make the buying and selling process simple! Our staff of antique jewelry experts will evaluate your antique jewelry and family heirlooms to offer you the highest possible
Charles Schwartz & Son is Washington DC's oldest jeweler. Based in the nation's capital for over 100 years, we take pride in our name as arguably the most recognizable and finest jewelers in Washington. We take great care in meeting the jewelry needs of our customers. Whether refurbishing a family heirloom or finding the right gift for that special occasion we are here to serve you.
We have a passion for jewelry and love to help people find pieces that they love and can use for years to come. Whether you're stopping by to pick up something new for your collection or you're looking to sell pieces you no longer need, we're ready to help you.
Look no further for your estate jewelry purchasing and selling needs than Charles Schwartz & Sons in the DC Area. 
You can visit our stores or give us a call at 202-363-5432