Each year, Pantone announces the colors which will definite the fashion season. As mid-summer hits, it's time to start thinking about your Fall wear. Luckily, we've made a guide for how to coordinate each of the Fall 2016 colors into your jewelry collection.
Riverside Blue
Think of the color the sky turns right around 4 pm on a crisp, Fall day and you've got riverside blue. A dusty, dusky version of navy which you can find in sapphires, some types of jade, enamel jewelry, and some types of topaz. Our favorite for this season is this Star Sapphire Cabochon Ring from Armadani. Want more? Check out our Riverside Blue Inspiration Board.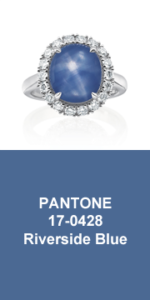 Airy Blue
If Riverside Blue is the late afternoon sky, airy blue is the color of dawn from September to December. You're more likely to find this color in blue topaz, tourmaline, and sapphire than with riverside blue. Our favorite for this season are these aquamarine and diamond drop earrings from SUNA. Want more? Check out our Airy Blue Inspiration Board.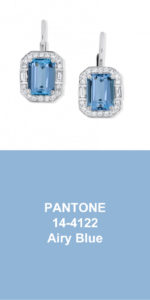 Dusty Cedar
Nothing screams fall leaves like a soft, earthy red tone. We love this piece from our estate collection featuring "Watermelon" Tourmaline crafted by artisan Bruno Guidi.  Want more? Check out our Dusty Cedar Inspiration Board.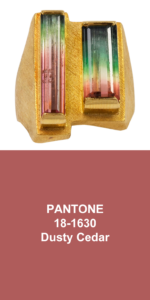 Lush Meadow
It's not often that fall colors feature such a vibrant, solid pigment. Most often, the season is characterize by muted, softer tones. Lush Meadow is truly an exception. A vibrant green which will make you think of some of the strongest evergreen trees, this color is Fall's nod to Winter. To add to your repertoire look no further than the truest emeralds. We like this diamond and emerald ring from Armadani. Want more? Check out our Lush Meadow Inspiration Board.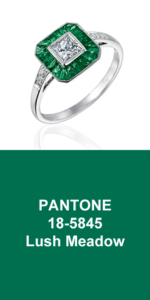 Warm Taupe
A classic Fall color which will make you think of pumpkin spice lattes, apple fritters, and the perfect pair light brown ankle boots. Warm Taupe is not easy to find in a gemstone and often will clash with most golds and silvers. Fortunately for you, we found this perfect morganite and diamond ring. Want more? Check out our Warm Taupe Inspiration Board.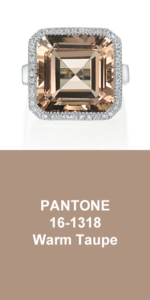 Potter's Clay
Pumpkin pie, crisp Fall leaves, brown leather boots…look no further than Potter's Clay. You can find this color in different forms of citrine and topaz but we like it best in colored jade. We love how the veins in these earrings bring texture reminiscent of Fall leaves. Want more? Check out our Potter's Clay Inspiration Board.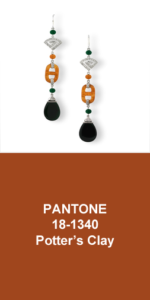 Spicy Mustard
If you loved last year's obsession with chartreuse, you will go crazy for this year's iteration of the classic Fall yellow. Spicy Mustard is slightly darker than chartreuse, with a little less green pigment and a little more red. Look for citrine stones, likes this Retro pendant accented with gold and rose gold. Want more? Check out our Spicy Mustard Inspiration Board.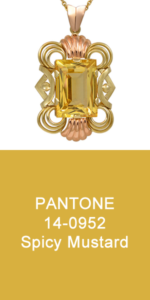 Aurora Red
Crisp red apples have nothing on this deep red with just a hint of orange. Fair warning, this color is hard to find. Don't let true red rubies mislead you – the best places to find this color are red jade and garnet. In the true spirit of Fall, we like these jade apple drop earrings. Want more? Check out our Aurora Red Inspiration Board.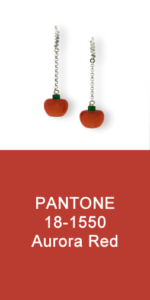 Sharkskin
Will fashion every get tired of shades of gray? We hope not. While last year featured darker charcoal tones, this year's Sharkskin is lighter and more consistent. Our recommendation is colored diamonds, like this diamond cluster ring from Chimento. Want more? Check out our Sharkskin Inspiration Board.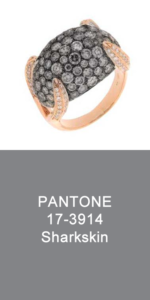 Bodacious
Every year has one color which shocks and dominates. This year that color is Bodacious (what's in a name, right?). A purple that isn't quite mauve, isn't quite magenta, and lies right on the line between Fall and Summer. We can't get enough. Look for purple sapphire and amethysts but to strike just the right hue we recommend looking for a rose gold setting, just like theses purple sapphire earrings, surrounded by diamonds and set in rose gold. Want more? Check out our Bodacious Inspiration Board.