When looking at engagement rings, many couples make the all-too-common mistake of sacrificing cut, clarity or color for the presumed king of the 4C's—carat. It is an all too common misconception that bigger is better in the world of diamonds.
Though large diamonds have an undeniable wow factor, focusing solely on a diamond's carat and ignoring the other 3 of the 4C's will lead to a diamond with sub-par color, clarity and brilliance. All in all—if you put too much of an emphasis on a center stone's size and ignore other important factors that determine the beauty of a diamond, it will most likely lead to a lower-quality ring that simply will not command the same presence. No matter your price range, when on the hunt for an engagement ring it is important to consider all of the 4C's, and not focus solely on a diamond's carat weight.
But what if you are truly set on having a large, stunning engagement ring? Well, one of the best things about engagement rings is that they come in all shapes, sizes, designs and price ranges! With all of these styles to choose from, it can seem overwhelming to narrow down the wide array of options to your top choices.
Here are a few tips on styles to look out for, and designs to take advantage of to make your ideal engagement ring shine brighter and appear bigger. Which of these stunning rings is your dream engagement ring?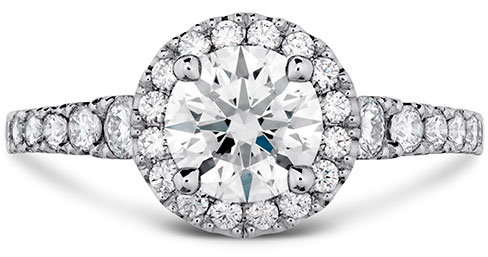 Add a Diamond Halo
There truly is a halo for any occasion! Whether you have your eye on a traditional round-cut ring or an eye-catching cushion-cut, there is a halo out there to perfectly complement almost any ring. As you can see with Hearts On Fire's Transcend Premier Halo Engagement Ring, a diamond halo gives a ring the brilliant illusion of a much larger center stone, as it adds volume and sparkle!
Check out our blog on halo engagement rings for more on this growing trend!
Choose a Center Stone with an Elongated Shape
As you can see with this beautiful emerald-cut diamond and platinum ring by Tiffany & Co, simply choosing a center stone with an elongated shape truly does make all the difference.
This trick has been around for decades—diamonds with elongated shapes have the convenient illusion of looking larger than they really are, when placed next to a round-cut diamond with the same carat weight. Although round-cut diamonds have historically been the most popular diamond cut for the cut's brilliance, "fancy" or elongated-cuts have recently risen in popularity for this reason.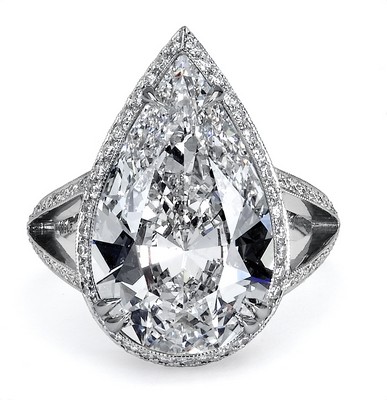 Beaudry has also taken advantage of this technique, as you can see with their Pear-shaped engagement ring, also featuring a stunning diamond halo!
Check out our blog on today's most popular diamond cuts for more on diamond shapes and cuts.

Choose a Three-Stone Ring
One of the best ways to give your ring an even more impressive appearance is to opt for a three-stone ring. This ring style amplifies the beauty of the ring's center stone with another dazzling diamond on each side, adding volume to the ring's overall appearance and effectively tripling your diamond's sparkle! As you can see here with Hearts On Fire's Destiny Three Stone Engagement Ring, this elegant design is truly a timeless look.

Add a Diamond Band
As you can see with Hearts On Fire's Destiny Dream Engagement Ring,if you are looking to enhance the appearance of your engagement ring, add a dazzling diamond band for even more sparkle. It's as simple as that.

Opt for Side Stones
Choosing a ring with side stones has a similar effect as adding a diamond band, but with an even fuller effect. As you can see with this Multiplicity Love 5 Stone Engagement Ring from Hearts On Fire, side stones go above and beyond simply adding a diamond band!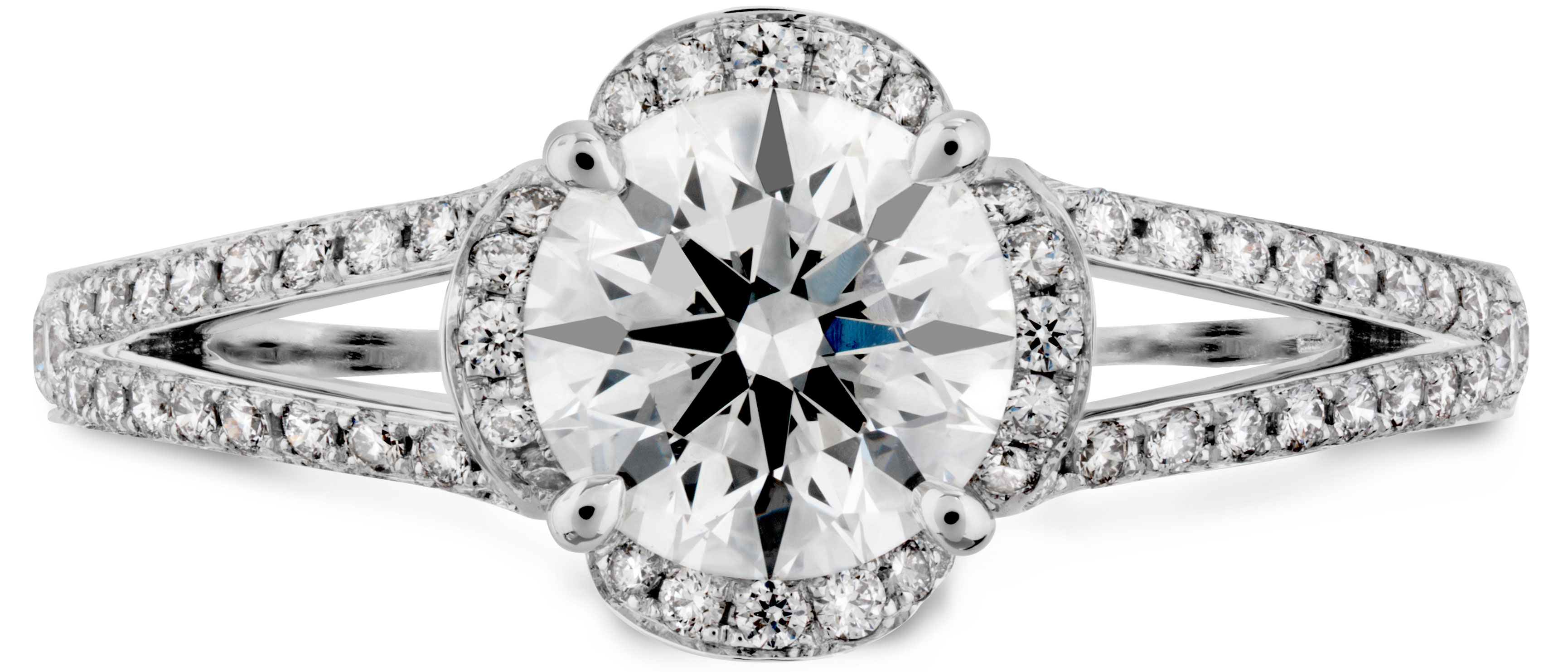 Choose a Split-Shank Setting
Adding a diamond-studded split shank setting to your ring is a great way to add even more sparkle to an engagement ring! As you can see with Hearts On Fire's Lorelei Split Shank Engagement Ring, the diamond-studded split shank enhances the beauty of the ring's center stone, by embellishing the center stone's stunning sparkle. Diamond-studded split shank designs combine the beauty of a diamond-studded band with the flattering effect of a diamond halo—giving the ring even more sparkle.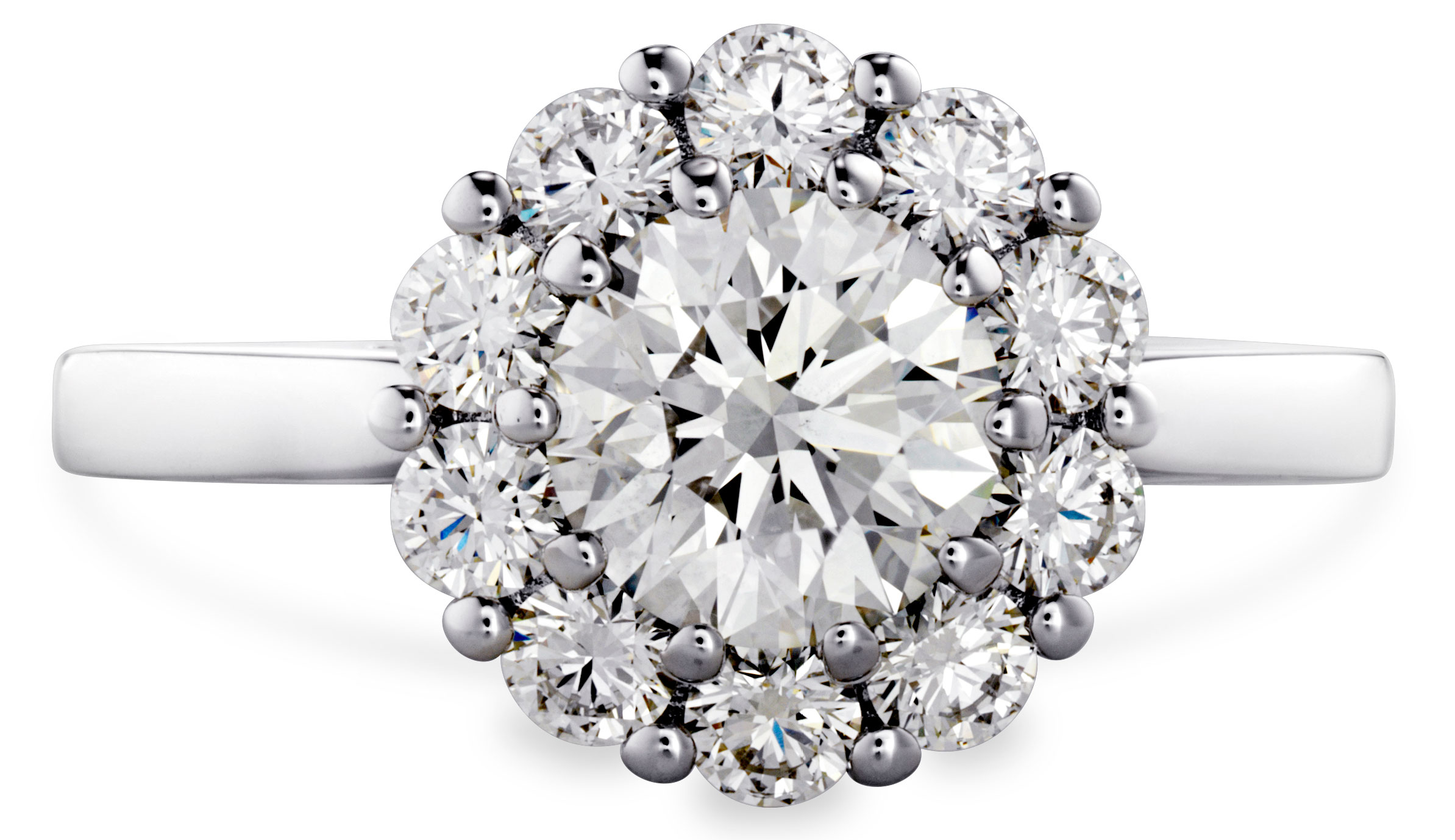 Pick a Ring with a Diamond-Cluster Design
Rings with beautiful cluster designs are yet another unique way to enhance the sparkle of an engagement ring. As you can see above with this stunning Beloved Open Gallery Engagement Ring by Hearts On Fire, adding more than just a halo to your engagement ring can make an even more impressive statement.

Choosing Multi-Row or Pave-Set Diamond Bands
Similar to adding a diamond band to your engagement ring, choosing a ring with a multi-row diamond pave band will have a spectacular effect on the appearance of an engagement ring, as you can see with the Lorelei Dream Pave Engagement Ring by Hearts On Fire.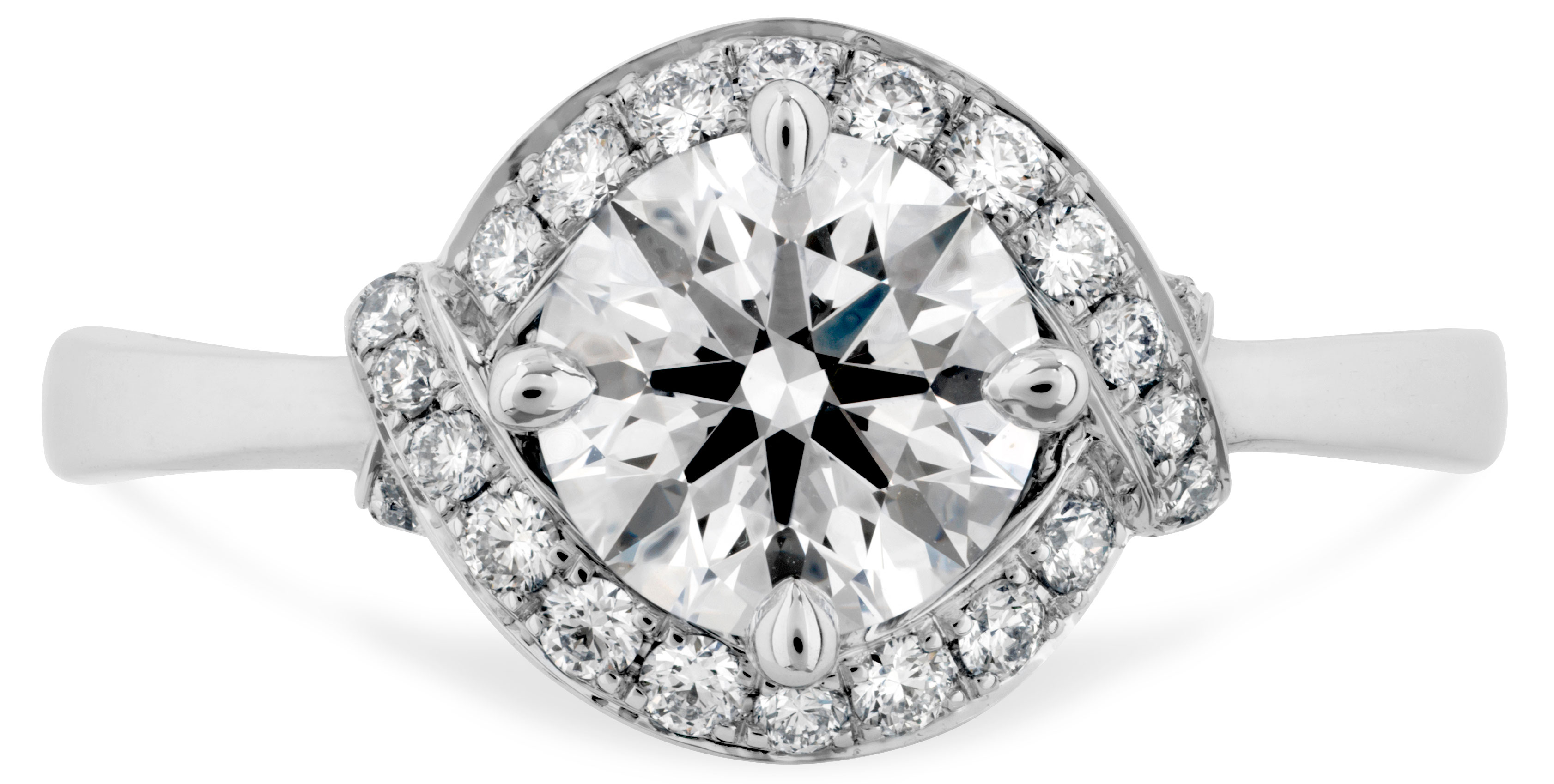 Take a Unique Spin on a Classic Design
Choosing a one-of-a-kind engagement ring, like the Optima Halo by Hearts On Fire, is yet another technique that is sure to stun the crowd. This ring's diamond halo and overall appealing oval shape frame the ring's center stone perfectly and achieves a larger, more impressive appearance than its simple solitaire counterpart.
Switch it Up, Add Some Color to Your Ring
If none of these tips and tricks have sparked your fancy, you may want to look at rings with a colored gem center stone. Engagement rings with gemstone center stones, like this Pink Spinel and Diamond Ring by SUNA packs a unique punch, and will surely catch anyone's attention!

Combine a Few of These Techniques
Can't decide which of these designs is best for you? Don't stress, just combine a few of your favorites! As you can see above, Hearts On Fire's Destiny Horizontal Regal Engagement Ring is the perfect example of this, as it combines a diamond band and brilliant side stones with an overall appealing horizontal marquise shape. The diamond-studded appearance of this ring gives it a standout style that truly lives up to its regal name.
As you can see, there are many ways to bump up the wow factor of your ring without sacrificing the quality of its center stone! Stop by one of our two locations for more expert advice from DC's oldest jeweler!