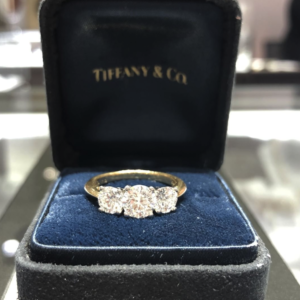 Engagement season is upon us! Around 40% of engagements happen between Thanksgiving and Valentine's Day, so if you're thinking about popping the question, the experts at Charles Schwartz are here to help Washington, DC residents find the perfect engagement ring.
Micro-Pavé: A pave setting refers to a band with small diamonds. The intricate detail of the additional diamonds adds grandeur to the ring, without distracting from the center diamond or gemstone. No matter the shape of the center stone, this style offers a little extra sparkle and elegance on the band.
Our extensive collection of designers offers pavé settings. Here is one example.
Antique and Vintage Rings: Your something old can be an antique or vintage ring that brings a history to a new love story. This style is perfect for someone who wants something really unique as these styles are typically made by hand and therefore, completely one-of-a-kind.
Check out some of our vintage engagement rings here.
Oval Stones: Ovals and other elongated cuts tend to look much longer than they actually are, which might be why they're so popular. They can be paired with a solid metal or pave setting and can either act as a stand-alone center or you can add a halo around the stone.
Check out this art deco double halo oval cut engagement ring.
Multi-Stone Rings: Stacking three or more stones side-by-side can give an engagement ring serious stature!
Here is a beautiful piece from Hearts on Fire with 5 stones.
Non-Diamond Center Stones: Even without a diamond, it can still be an engagement ring. These alternative stones give a pop of color to your ring, making it truly stand out.
Check out this sapphire engagement ring that you'll absolutely love!
Read more engagement ring trends at brides.com.
Sometimes it can be overwhelming to choose from a large selection of engagement rings. We want to make the process as easy as possible for you and your loved one, so choosing to create a custom engagement ring will help ensure that you are selecting a ring that you'll love forever!