Are you looking to sell your estate jewelry to a trustworthy and expert jewelry store? Charles Schwartz & Son can help assist you with all of your selling and jewelry purchasing needs.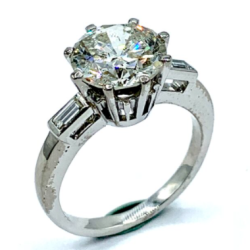 Since 1888, Charles Schwartz & Son has been buying and selling the finest pieces of jewelry. The antique jewelry experts at our stores make the selling and buying process as simple as possible. Our expert staff of vintage and estate jewelry will evaluate your piece, as well as family heirlooms, to offer you the highest possible price. We aim to make sure every customer is treated with the utmost care, professionalism, and confidentiality.
With over 130 years of experience in the Washington, DC jewelry industry—you can trust Charles Schwartz & Son to consult on all of your jewelry-related needs! For additional information, or to schedule an appointment to sell your antique jewelry, contact us today to set up a consultation.
What To Know About Selling Estate Jewelry
Did you know a piece of jewelry is considered "antique" if it is over 100 years old? Antique jewelry was crafted from high-quality materials with a superior level of craftsmanship, leading to sturdy, high-quality pieces. For this reason, in addition to the old age and relative scarcity of antique jewelry, the majority of antique pieces are too valuable to be worn or displayed.
Once our expert jewelers appraise your piece or pieces of jewelry, we will offer you a transparent and fair price. We want to make sure that our clients understand why their jewelry items were priced and are more than happy to answer all questions.
When visiting, we will look at rarity as well as the condition of your piece. We have highly trained professionals that keep an eye out for detail to offer you the best and most accurate price estimate.
Once you've had a chance to review our offer and go through any questions with our team, you can decide whether you would like to move forward or not. If you decide to move forward, we'll purchase your piece and help find it a new home where it will be loved and cherished.
Metals, gems, and eras of time will vary for each estate jewelry piece you may possess. Often, jewelry will capture the hearts of those who wear it due to various historical trends, fads, and designs.
To schedule a consultation with one of our jewelry experts to sell your DC estate jewelry, call 202-363-5432.