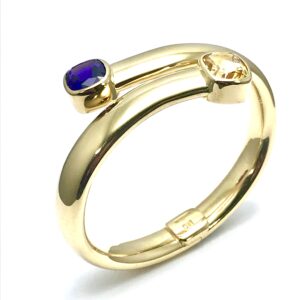 Vintage jewelry comes in all shapes and sizes. Each piece has a unique feel and history. If you're looking for a gorgeous piece of vintage jewelry to add to your jewelry collection, or to give as a gift, Charles Schwartz has the piece you're looking for.
A vintage cocktail ring– Cocktail rings can be chosen to be worn daily or saved for special occasions. We have a variety of gemstone cocktail rings with different styles for you to consider.
Vintage engagement rings– Vintage engagement rings are becoming increasingly popular. Many brides love their elegance and feel as though their ring is one of a kind. If you're looking for a unique engagement ring for your significant other we'll help you find the vintage ring she'll say yes to.
Vintage earrings– Vintage earrings can be as simple as a pair of studs or as complex as a diamond chandelier earrings. Vintage earrings make a great gift for your significant other or for a mother or sister.
Vintage necklaces– Vintage necklaces are often pieces that can be worn daily. Necklaces are a great purchase for yourself or as a gift for a loved one.
Vintage watches– Looking for a gift for a dad, brother, or yourself? We often have antique and vintage watches including Rolex and Bulgari.
Each one of our jewelers is highly trained and our aim is to help find the piece of vintage jewelry perfect for you. We'll walk you through our entire collection and can make suggestions that fit your budget and your style. If you're looking for vintage jewelry, we're ready to help.
To schedule a consultation with one of our expert jewelers to find the right piece of vintage jewelry for you call 202-363-5432 or click here.