Vintage engagement rings are most often one of a kind, making them uniquely yours and a great way to show your special relationship.
Purchasing an engagement ring is a big step. Not only can engagement rings be a big investment, but it's something you or your fiance plan on wearing forever, so it is imperative that you find the right ring.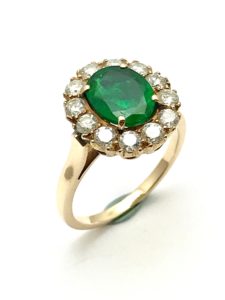 Consider what style of jewelry your significant other prefers when choosing a vintage engagement ring DC. For example, if they prefer jewelry with hard lines, sharp edges and geometric angles, then an Art Deco style vintage engagement ring DC would be a perfect fit. Or, if intricate, lacey patterns are their preference, then an Edwardian style vintage engagement ring DC would be a better choice. Contrarily, Victorian style vintage engagement rings DC are characterized by opulent and ornate subtleties. The options are seemingly endless.
A Unique Choice: Vintage Engagement Rings
Vintage engagement rings usually feature ornate designs and are likely to be handcrafted. While antique engagement rings are over 100 years old, vintage engagement rings span several eras and are generally at least 50 years old. You can learn more about vintage engagement rings here.
You may find filigree detailing on a vintage engagement ring, which is a type of delicate jewelry metalwork that is handcrafted specifically to each ring. Filigree detailing was very popular from 1660 to the late 19th century, and vintage engagement rings with this style can have asymmetrical designs, which is ideal for many as it expresses the individualized beauty of the ring.
Choosing a Washington DC Jeweler You Can Trust for Your Vintage Engagement Ring
It is particularly important to choose a trusted jeweler when picking out your vintage engagement ring, to be confident in its authenticity and quality. Many jewelers sell pieces that are only vintage-inspired, rather than authentic vintage engagement rings.
The DC area has trusted the jewelers at Charles Schwartz to find unique vintage engagement rings for over 100 years, check out our collection today!