A Rare, One In a Million Engagement Ring Is Incomparable; Consider Finding a Vintage Engagement Ring Dc For When You Pop The Question!

Choosing an engagement ring can seem like one of the most significant decisions you'll make, but it shouldn't be stressful. The expert jewelers at Charles Schwartz are here to help you choose the ring that's right for you; we've been assisting couples in finding their dream vintage engagement rings in Washington, DC for over 100 years!
Consider what style of jewelry your significant other prefers when choosing a vintage engagement ring. For example, if they prefer jewelry with hard lines, sharp edges and geometric angles, then an Art Deco style vintage or antique engagement ring would be a perfect fit. Victorian style engagement rings are characterized by opulent and ornate subtleties. Or, if intricate, lacey patterns are their preference, then an Edwardian style ring would be a better choice. The options are seemingly endless.
Vintage engagement rings are often handmade and therefore one of a kind, which can make for a great conversation starter because no one will have a ring quite like yours! One of the most exciting things about purchasing a vintage piece is finding out about its past. Each piece has its own story to tell about a different time in history. Whatever story is attached to your vintage engagement ring, just being able to have a piece of the past is a special feeling.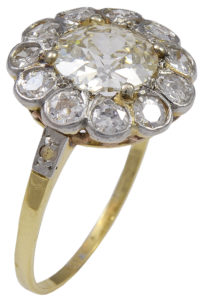 The type of vintage engagement ring that a couple chooses can make a statement about their values and relationship. The uniqueness and sincerity of a couple's love for each other can be symbolized by the engagement ring they choose. At the same time, the distinctiveness of the vintage engagement ring can be a standout from other engagement rings that their friends and peers have picked.
Charles Schwartz: Helping Washington DC area couples find their perfect engagement ring since 1888.
Charles Schwartz jewelers are experts in the field and understand the important decision you're making. Whether you plan to shop for your ring with your partner, or plan to completely surprise them, we are here to help you find that forever ring.
If you're looking for a vintage engagement ring, visit Charles Schwartz today and our expert jewelers can help you find the perfect fit.