Since 1888, Charles Schwartz & Son has been selling and buying some of the finest estate jewelry in the Washington D.C. area.
The experts at Charles Schwartz & Son make the buying and selling process simple for our DMV residents and individuals across the nation.
Our staff is very knowledgeable about jewelry. This can include antique jewelry, vintage jewelry, designer jewelry, and more. We offer individuals the highest possible price, while also treating each customer with the best care, professionalism, and confidentiality.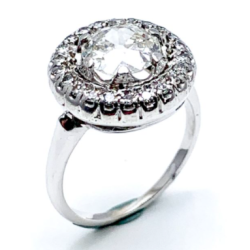 A piece of jewelry can be considered antique if it is considered over 100 years old. Unique antique jewelry was crafted from high-quality materials, with superior levels of craftsmanship. This leads to sturdier and higher-quality pieces.
That in addition to the piece being old in age, there is a level of scarcity of antique jewelry. Many antique pieces are too valuable to be worn or displayed.
With over 130 years of professional experience in the Washington DC jewelry industry, one can trust Charles Schwartz & Son to consult on any and all of your jewelry-related needs!
We purchase fine antique jewelry and gems from a variety of jewelry eras, including:
Georgina Era (1717-1837)
Victorian Era (1837-1901)
Arts and Crafts Era (1894-1923)
Edwardian Era (1901-1915)
Art Nouveau Era (1895-1915)
Jewelry pieces that are considered vintage are over 50 years old, but less than 100 years old. Unlike the rare characteristics, vintage jewelry is often worn and displayed. This is because vintage jewelry is less likely to break due to its relatively young age. Several vintage designs are still in tune with many modern trends. Vintage jewelry has become the ideal choice for making unique fashion statements or adding a little contemporary flair to an outfit.
Some jewelry eras that may be considered vintage can include:
Art Deco Era (1915-1935)
Retro Era (1945-1960)
Repairing and Selling Estate Jewelry
At Charles Schwartz & Son we have arguably the finest repair department in the Washington DC, MD, and VA area. Our watch technicians and our Master Jewelers are talented craftsmen and have many years of specialized experience assessing needed repairs.
Our in-house Master Watchmaker is certified to work on all fine Swiss watches. This can include brands such as Rolex, Cartier, Patek Phillippe, and many others. By having in-store service, we can avoid shipping your valuables. This enables us to complete the repair quickly, as all repairs are guaranteed. We aim to have your jewelry or watch look like the day it was first purchased.
Our Master Goldsmiths and Master Platinumsmiths have over 100 years of combined experience. We have done many types of repairs and custom work.
Ranging fixes such as sizing a ring, converting your loved one's brooch into a pendant, and or custom designing a one-of-a-kind unique piece of jewelry.
Our jewelers at Charles Schwartz & Sons will evaluate the work that needs to be completed and explain the entire process.
Started by the Schwartz family in 1888 and passed on to the Pastor family in 1984, Charles Schwartz & Son is your family jeweler. Charles Schwartz & Son Jewelers has had the honor of servicing the dignitaries of Washington and the world. Along with them, we welcome you to be a part of our family. We invite you to stop in and visit us at any time.
Sell Estate Jewelry Confidentially
Our staff of antique jewelry experts will evaluate your antique jewelry and family heirlooms to offer you the highest possible price. While we treat every customer with care, we also provide the utmost confidentiality and professionalism.
The estate jewelry experts at Charles Schwartz & Son are well-versed in dating and classifying estate jewelry and are happy to answer any questions you may have about estate jewelry.
At Charles Schwartz & Sons, you can also purchase an estate, vintage, designer, and modern-day jewelry pieces. We have a variety of different motifs, types of jewelry, and eras at both of our locations.
One can purchase jewelry such as:
Brooches
Rings
Engagement Rings
Cocktail Rings
Cufflinks
Watches
Necklaces
Bracelets
Earrings
and more!
If you are looking for a specific motif or are curious if your pieces of jewelry are from a certain era, our expert jewelers can help. There are very specific motifs in jewelry design. Subtle design details and motifs found in estate jewelry are arguably the easiest "tell" of the piece's age or era of origin.
If you are interested to sell your estate jewelry, you can call or visit us in person at Charles Schwartz & Son.