Finding the perfect engagement ring DC can be stressful. Follow these tips to help simplify the process.
Advice from an expert jeweler can help ensure you make the right choice for your Engagement Ring DC.
Tips for Finding the Perfect Engagement Ring DC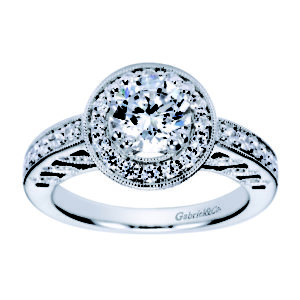 Find out the size: During that special moment when you're placing the perfect ring on your significant other's finger, avoid the ensuing embarrassment of the ring not fitting correctly. Check your significant other's jewelry box to find a ring they've worn recently to determine their ring size.
Find the right style: Again a jewelry box is a perfect place to start when determining the style of jewelry that your significant other prefers. If they do not own or wear much jewelry, consider their fashion tastes. Do they prefer unique pieces or love shopping for antiques? An antique engagement ring is probably the perfect choice. Perhaps they're fascinated with designer brands? Then consider a big name like Tiffany & Co. or Armadani. At Charles Schwartz, our selection of engagement rings covers a wide range of tastes so you're sure to find the right fit.
Pick the perfect stone: When beginning to look for your ideal engagement ring stone your mind most likely goes right to diamond, but there are many other unique stones to consider. Both sapphires and emeralds are becoming a more popular choice for engagement rings, or you could even choose your significant other's birthstone to add a thoughtful touch.
Choose a jeweler you can trust: If you're unsure of how to begin your search for the perfect engagement ring it is essential to find a jeweler you can trust to help you make the right choice.
Find the Perfect Engagement Ring DC at Charles Schwartz
The expert jewelers at Charles Schwartz have been matching individuals and couples with their perfect engagement rings for over 100 years so you know that you can rely on our expertise. We take pride in our name as one of the most recognizable jewelers in Washington DC.
As experienced jewelers, we look forward to helping you find the perfect engagement ring DC.