Diamond earrings add stunning symmetry like no other to every outfit, making them the perfect gift for every occasion—after all, diamonds are a girl's best friend! While diamond earrings are a beloved jewelry staple, there are so many types, sizes and varieties to choose from, and it can get a little overwhelming! But there's no need to stress—the experts at DC's oldest jeweler are here to help with the Rookie's Guide to Diamond Earrings:
Earring Styles

Stud Earrings: well-known as a staple of every woman's jewelry collection. Diamond studs are perfect for women of all ages and pair perfectly with every style! Diamond studs always sport a clean-cut, classic look you'll never grow tired of, so it should come as no surprise that diamond studs are always the perfect gift! Search our current collection of stud earrings today to find your perfect pair.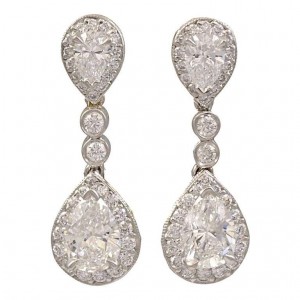 Drop Earrings: designed to dangle, or drop below their setting, this unique, feminine style gives the wearer a truly regal look! Earrings like these gorgeous Diamond & Platinum Drop Earrings by Michael Beaudry are the perfect example of the stunning statement a pair of drop earrings can make! Drop earrings come in a variety of styles including hoops and chandeliers. Diamond drop earrings are sure to catch the sunlight as they sway with every movement, dazzling more than ever before!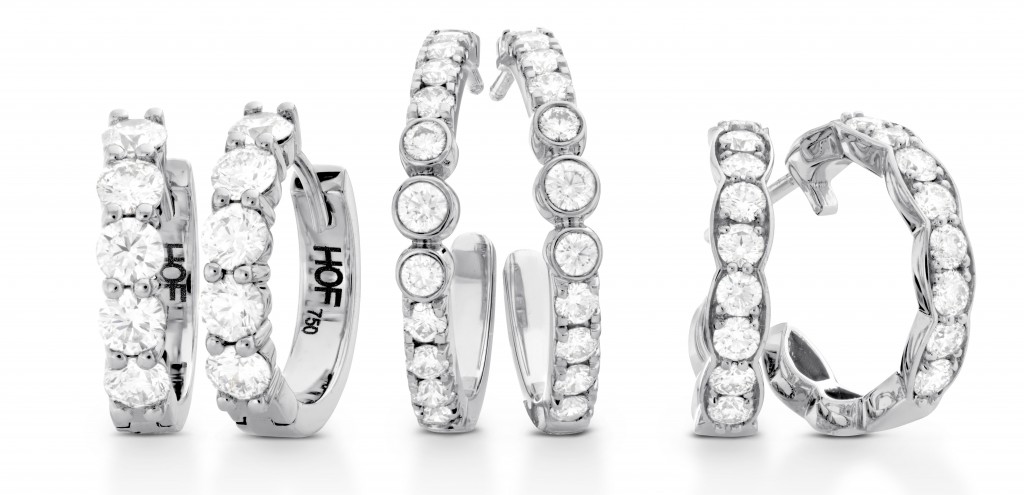 Hoop Earrings: while diamond studs are synonymous with timeless, classic style, diamond hoop earrings are perfect for those looking to make a truly dazzling statement! Diamond hoops are available in a wide array of sizes and thicknesses like the Hoopla 1.75" Round Hoops and Lorelei Floral Hoops, both by Hearts on Fire. Classic or fashion-forward hoops are ideal for formal occasions and everyday wear! Our wide offering of hoop earrings complement a variety of styles—from modest and classic to bold and dramatic!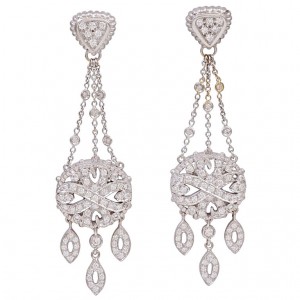 Chandelier Earrings: a combination of diamonds and metals dangling from the ear to at least an in or two below the earlobe. Chandelier earrings like these Diamond & White Gold Chandelier Earrings by Doris Panos attach to the ear with a simple stud earring, cascading dazzling diamond-intensive designs every woman would love to show off! For more examples of this stunning trend check out our collection of chandelier designs.


Earring Settings
After choosing the type of earring you're looking for, the next step is picking your earring's setting. An earring's setting determines how a diamond or other gemstone is set into the earring's metal. If you're the kind of person who is looking for maximum sparkle and don't like losing sleep over lost diamonds—then you should pay very close attention to your jewelry's setting (or settings).
Settings vary in security, meaning how secure the diamond is in the earring itself, and also have a dramatic impact on both earring design and overall sparkle. A diamond's setting affects how much surface area (of each diamond) will be visible and how closely diamonds can sit together on a piece of jewelry, greatly impacting the overall brilliance of a pair of earrings.
Bezel-Set (far left): are widely considered the most secure diamond setting, as the circumference of the diamond is completely surrounded by metal. While this is a very secure setting, since the circumference of the diamond is surrounded in metal, thus covering a substantial portion of the set diamond, you're giving up a portion of the potential overall brilliance and sparkle of these earrings for increased security.
Pave-Set (middle left): sure to bring seamless sparkle thanks to this setting's minimal (if any) space left between diamond and another. Pave-set earrings like these Pave Diamond & White Gold Clip Earrings by Tiffany & Co are sure to dazzle with their diamond-intensive design!
Prong-Set (middle & far right): by far the most popular earring setting, and it's easy to see why! As you can see above, three and four prong-set earring settings provide a stylish yet secure setting, showcasing the natural beauty of the diamonds by allowing the maximum amount of diamond to be shown. Prong-settings truly allow diamonds to shine to their full potential with this classic, minimalist design.
Earring Backs
Earring back preferences are important to consider as well! While some may be indifferent, others have strong preferences when it comes to earring backs, so be sure to asked your loved one if they have a preference! Or, if you don't want to ruin the surprise, take a look in their jewelry box and see what the kind of backs are on the earrings they wear most often.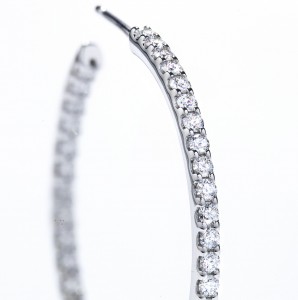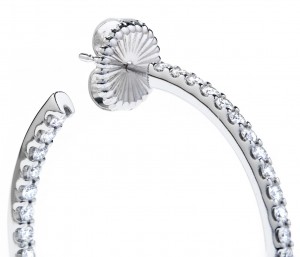 Push Backs (left): If you can't find the answer in their jewelry box, push back earrings are always a safe choice. Push backs are the most popular earring backing style on the market because they are comfortable for sensitive ears and a breeze to put on and take off.
Screw Backs (right): another popular earring backing quite similar to push-back earrings, but with a grooved end on the earring's post. Screw back earrings are admired by many for their added security over the increasingly common push-back earring backing. If you or your loved one worry about earrings falling off, screw back earrings are for you. But keep in mind—screw back earrings are less than ideal for those with sensitive ears!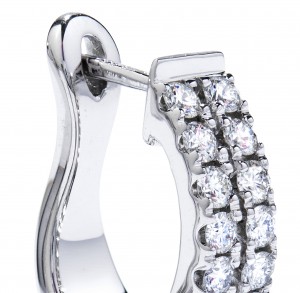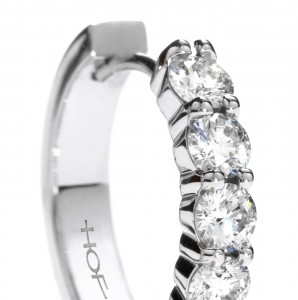 Latch-Back (left): a slightly curved metal bar attaching to a U shaped latch on the back side of the ring; a common find with hoop earrings.
Lever-Back (right): similar to latch-back earrings, however lever-back earrings are more of a common find in large, valuable hoop earrings, and relies on a hinged lever that folds in and out, securing on the backside of the ear.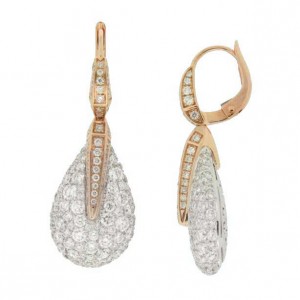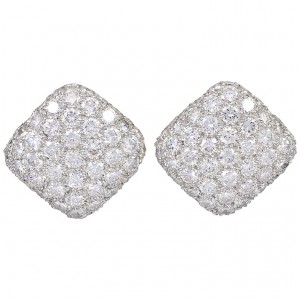 French-Back (left): a looped metal hinge that sits behind the ear like you can see with these Diamond Cluster Drop Earrings by Chimento  the earring in place. Although this style is quite comfortable and secure, French-backings aren't as durable as other earring backings.
Clip-Backs (right): perfect for those without pierced ears! Many believe clip earrings are for kids, but that could not be farther from the truth! Clip earrings like these Pave Diamond & White Gold Clip Earrings by Tiffany & Co are a truly stunning option every woman is sure to love.
Finally, be sure to consider the complexion of the wearer—diamond earrings look truly stunning on everyone, but some metals pair better with certain complexions than others. Here at Charles Schwartz & Son, we offer a wide selection of sophisticated yet stunning diamond earrings in a variety of shapes, settings, metals and gemstones.
Check out our collection of classic diamond studs fashionable hoops and dazzling drop earrings online, or visit one of our two Charles Schwartz & Son locations for trusted advice from DC's oldest jeweler!