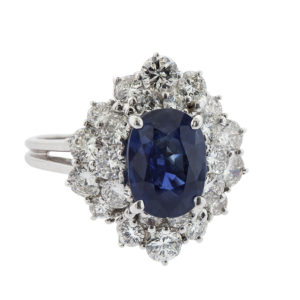 While diamonds have always been a girl's best friend, it seems that recently, more brides are gravitating towards gemstone engagement rings. Before purchasing an engagement ring, you should understand your options and find out if your bride-to-be is interested in a gemstone engagement ring in DC.
Whether you choose a diamond center stone with gemstone accents or choose to go for a gemstone center, you should know your options for adding a pop of color to your ring.
Sapphire: Perhaps it's Kate Middleton's engagement ring or the fact that sapphires are just gorgeous, but this stone is certainly gaining popularity. While blue is the most popular color, sapphires come in every color but red, and the stone is remarkably durable, making it a fantastic alternative to a diamond.
Emerald: Emeralds have become another popular choice. With their stunning green color and unique cut, they're sure to stand out.
Ruby: Rubies can be the highest price-per-carat of any colored stone. Their striking red color intensifies in the sunlight. A unique choice, rubies make stunning jewelry and can be a great alternative to a diamond ring.
Amethyst: Amethysts' purple coloring gives it a luxurious feel, and the stone tends to be one of the more affordable gems on the market.
If you're considering a gemstone engagement ring as an alternative to a diamond, you should turn to an expert. We recommend talking with your significant other to see what their ring preferences are before shopping for a ring, or if you want it to be a complete surprise, we can help with that as well.
Our experts have been assisting customers since 1888 and are ready to show you our wide selection of gemstone engagement rings or create a custom piece. Choosing the right engagement ring is a huge decision, let us help you find the ring they'll say "yes" to.