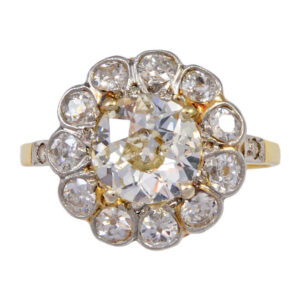 Thinking of popping the question to your special someone? Do it with an engagement ring as beautiful and unique as your love story. In today's world, it can be extremely overwhelming trying to pick out the perfect ring with seemingly limitless ring options. However, if you're looking for a gorgeous ring that stands the test of time, consider an antique or vintage engagement ring.
Knowing The Right Engagement Ring When You See It: Antique, Vintage, or Modern
Even when you've figured out your budget, stone, shape, setting, and style it can still be overwhelming to look at all the options. Designer, antique, and vintage rings, each have their own unique personality. Consider her style, does she like to wear the newest and latest trends, does she appreciate a more timeless style? It may all seem overwhelming, but when you see the ring that's meant for her, you know.
The ring you buy should be a reflection of who she is and the love you share. When you look at the ring you're going to propose with, you want to look at it and see her. So how do you decide?
When you consider an antique or vintage ring, the world is your oyster. These rings have history and character. They come in all different types of settings with different types of stones. These rings often feel as though they're one of a kind. In many cases, these rings are the only one of its kind that is available. So when you buy her the ring, she can show it off confidently knowing she's the only one of her friends with that ring.
Our jewelry experts are highly trained and can walk you through our vast collection to find the stone and setting of her dreams. When you come to Charles Schwartz we'll help you find the ring she'll proudly wear forever.