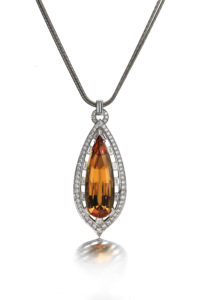 Looking for a gift for a November baby, a holiday or an anniversary present? We have a wide selection of topaz and citrine birthstone jewelry to choose from so you can give a gift they'll fall in love with.
Topaz:
This gem comes in several different hues- Topaz comes in nearly every color of the rainbow making it extremely versatile and easy to match with any outfit.
It can be treated to make different colors- Blue Topaz is a result of treating colorless topaz with irradiation and heating, while "Mystic Topaz", which appears to look rainbow, is created when a thin artificial film is added to colorless topaz.
Topaz doubles as an anniversary gift- If your loved one doesn't have a November birthday and you're looking for a holiday or anniversary gift, you're in luck! Topaz is stunning no matter the occasion. For example, blue topaz is the gem to celebrate your fourth wedding anniversary and imperial topaz honors your 23rd wedding anniversary.
Citrine:
This gem has a rich history- Citrine is a yellow to brownish orange variety of quartz and was often mistaken for topaz in ancient times. People believed that it had the power to calm the individual wearing it.
Citrine can be an anniversary gift- Just like topaz, citrine doubles as an anniversary present and is historically given on the 13th wedding anniversary.
It tends to be more affordable- Citrine has a wide range of sizes and is one of the more available gems, it is often one of the most affordable and desired of the yellow gemstones.
There is no shortage of options when it comes to picking out birthstone jewelry to celebrate you and your loved one. Whether it's a gift for a birthday, an anniversary present, or a holiday gift, we can help you find the right piece they'll love.
For more information about birthstone jewelry gifts, give us a call at 202-363-5432 or contact us online!