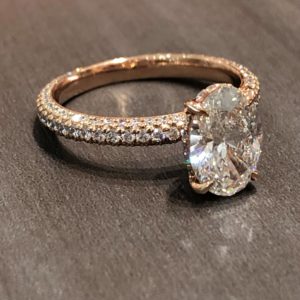 Along with the flowers, Spring is a time for love to blossom into a proposal. Picking your engagement ring is one of the most difficult decisions to make which is why the experts at Charles Schwartz are ready to help you find your DC engagement ring. Designer or Vintage? Diamond or Emerald? No matter the style, we can help!
Pear shaped stones – Often referred to as the teardrop, this edgy style is for those who love to stand out. It can be worn as a solitaire or as side stones.
Yellow Gold – The 80s called and said this trend is coming back and is better than ever! Pair it with some statement stones and other trends and this is not your mother's engagement ring.
Micro-Pave- Micro-pave refers to a setting with a lot of small diamonds. They say that diamonds are a girl's best friend and if you love all things diamonds this style might be for you! 
Antique, Vintage or Estate Rings – Your something old doesn't have to be old-fashioned. Antique, vintage and estate rings bring a unique history with their one of a kind designs that often can't be replicated.
Oval Stones- Oval cut diamonds are hard to find, making this trend appealing for those who don't want to stick with a traditional round diamond, but like the overall look. 
Non-Diamond Center Stones- Diamonds aren't for everyone! If you're looking for something different, then an alternative stone might be for you! Whether it's sapphire, ruby, emerald it can be the star of your engagement ring.
For over 100 years, Charles Schwartz has been helping Washington DC couples find engagement rings.
No matter the style you are looking for, the experts at Charles Schwartz are knowledgeable jewelers who can help you through the process of finding an engagement ring in DC. If you have something unique in mind, we can help you create the perfect custom ring of your dreams. Whether you plan to shop for your ring with your partner, or plan to completely surprise them, we are here to help.
If you're looking to find the perfect engagement ring in DC, contact Charles Schwartz today.