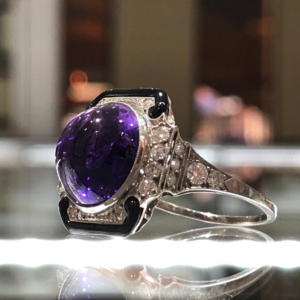 Due to the way jewelry was made in the past, Washington, DC vintage jewelry is genuinely irreplaceable. The often handmade and always distinctive pieces are created by techniques no longer practiced today. The vintage jewelry experts at Charles Schwartz & Son are here to help you find the perfect vintage piece. With over 125 years of experience handling vintage jewelry,
What Makes Jewelry Vintage?
If the piece is between 50 and 100 years old, it is considered "vintage" jewelry.
One would think that the terms Antique, Vintage and Estate are rather common in the world of jewelry, yet the three are misused very often. It is important to know how this jewelry is different.
Estate Jewelry is a piece of jewelry that has had a previous owner. Age actually has nothing do to with whether or not the piece is classified as "Estate." If the jewelry is over 100 years old, it is considered "Antique." Typically, this jewelry is so scarce and rare it's too valuable to be worn.
Unlike antique jewelry, vintage pieces are often worn and displayed, as they are less likely to break.
Fashion Forward Washington, DC Vintage Jewelry
Vintage jewelry is so popular in fashion because of the vast range of styles and one of a kind nature. Vintage jewelry designs are easy to incorporate into fashion-forward outfits to create unique statements—as vintage jewelry designs are relatively current, easily paring with today's hottest trends while adding a unique flair to any outfit!
From the Art Deco era to the Victorian era, Washington, DC vintage jewelry has something to offer everyone. With vintage jewelry, you can explore diverse designs such as strong shapes, light and lacey or romantic gemstone sets. Your vintage jewelry is not only an accessory it is a unique conversation piece that is wholly "You."
Let the vintage jewelry experts help find your next unique piece by contacting Charles Schwartz today.