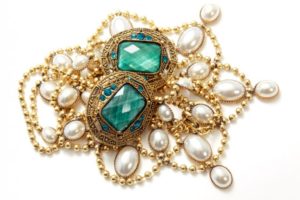 We all have jewelry in our jewelry box that we no longer wear. Whether it is an old gift from an ex, an item you haven't worn in years or something that just doesn't fit anymore, consider selling your fine jewelry in DC. For over 130 years, Charles Schwartz has been your trusted local jeweler, helping many clients sell fine jewelry. Who knows – you may even find a new item to refresh your wardrobe with in the process!
If you need a bit of extra cash, or you have jewelry you no longer wear, consider looking through your jewelry box and selling your fine jewelry in DC.
We understand that jewelry can hold fond memories, but there is no reason to let it collect dust, especially when you can replace it with something you'd wear more frequently.
It can be difficult to know how and where to get started, so here are a few things to consider when selling your fine jewelry:
There are a lot of factors that go into determining the current value of a piece of jewelry including wear and tear, whether repairs need to be made and the quality of gems and metals on the piece. The experts at Charles Schwartz can appraise your fine jewelry to determine the value of your piece
Ask questions to be informed:
Our expert jewelers will provide an explanation of the amount we offer for your jewelry and answer any questions you may have. You can expect to be treated with the utmost care, professionalism and confidentiality.
Consider purchasing a new piece of jewelry:
Our jewelers can help you replace the piece with something new that refreshes your wardrobe. At Charles Schwartz, we have an large collection of unique pieces from vintage and antique to designer jewelry.
If you are looking for a local trusted jeweler who can help you evaluate and sell your DC fine jewelry, you've come to the right place. Contact us today.