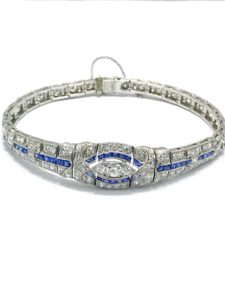 If you have jewelry in your collection you no longer wear, give it a new life by selling your antique jewelry to a trusted local jeweler.
It can be challenging to part with your antique pieces. You may have inherited them, received them as a gift, or even purchased them for yourself. But when you're no longer wearing your pieces, it may be time to sell them.
Once you've decided it's time to part ways with your antique pieces, you'll want to find a jeweler who knows the value of them and will appreciate them as much as you did. The expert jewelers at Charles Schwartz have been working with customers since 1888. We have a passion for helping our customers find pieces that are perfect for them and giving vintage and antique pieces a chance at a new life.
Our staff is knowledgeable and can evaluate your antique jewelry and ensure a fair price. We'll go through our process with you and answer any questions you have along the way. We aim to find a new how for your pieces where they'll be as loved and appreciated as they were with you.
The Benefits of Selling Your Antique Jewelry in DC
Not only will we offer you a fair price, but we'll help you find something new for your collection if you so choose. Once you've parted with your antique pieces, you may want to find something new to add to your collection. We'll happily guide you through our selection to help you find the perfect vintage, antique, or new piece that speaks to you.
To make an appointment with one of our expert jewelers to sell your antique jewelry in DC, call 202-363-5432 or reach out online.