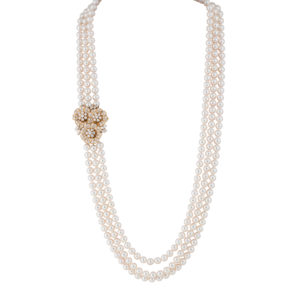 Do you have estate pieces in your jewelry collection that you no longer wear? Perhaps it was a gift, something you inherited, or something you purchased for yourself but never got a chance to wear. Don't let your estate jewelry sit and collect dust. Turn to the expert jewelers at Charles Schwartz to sell your estate pieces and possibly find something new for your collection.
Determine the worth of your piece– We understand that your estate jewelry pieces may hold some sentimental value and you want them to go to a good home for a fair price. Our trained jewelry experts will carefully inspect your pieces before coming up with a price.
Ask questions– When you're selling your estate jewelry, it's important to ask questions. We'll happily explain our process to you as well as any questions you have about pricing.
Add a new piece to your collection– When you sell some of your estate pieces, you may want to add something new to your collection. We'll assist you in finding something new that speaks to you.
What Can I Expect When I Sell My Estate Jewelry at Charles Schwartz?
When you decide to sell your estate jewelry at Charles Schwartz, you can expect professional service from knowledgeable jewelers. We take our time to answer any questions you may have and assist you through the process of your jewelry sale. We'll happily walk you through our extensive collection if you're interested in something new for yourself or even a gift for someone else.
Don't let your estate pieces go unworn any longer. Give them a chance at a new life and consult with the experts at Charles Schwartz.