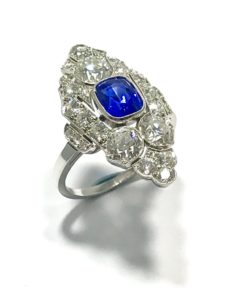 If you have pieces of antique jewelry in your collection that you no longer wear and just collect dust, it may be time to consider selling it. The jewelry experts at Charles Schwartz understand how much sentimental value your jewelry can hold, and we pride ourselves on offering you a fair price for your pieces and finding them a new home where they can be enjoyed.
Our experts will work with you when you come to us to sell your jewelry. During your visit we will:
Determine the worth of your antique jewelry– Our jewelry experts will evaluate your piece on a variety of factors including its condition and rarity. We want to ensure that you're happy with the price we offer and can walk you through your pricing process.
Answer any questions you may have– If you have questions at any point during your visit, we're more than happy to help. We can provide a full explanation of our pricing process and how we evaluate jewelry so that you feel comfortable throughout the process of selling your pieces.
Assist you in finding a new piece for your collection– We often have visitors who wish to add a new piece to their collection after selling their antiques to us. We will happily walk you through our collection and find something that suits your needs. We have a wide variety of antique, vintage, and designer jewelry in our collection and can even create something custom.
When you decide it's time to sell your antique jewelry pieces, we're ready to help. We've been assisting customers since 1888 with all their jewelry sales and purchasing needs. We're passionate about making our customers happy and helping them find the piece of jewelry that's perfect for them.