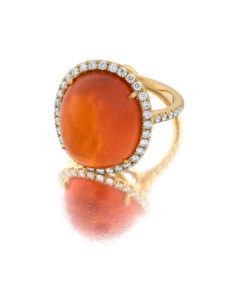 Are you looking for a piece of designer jewelry in DC for your family member, significant other, or friend with a January birthday? Consider garnet, the January birthstone, which comes in colors for everyone and beauty that can't be missed.
Garnets are absolutely stunning gemstones that come in reds, greens, oranges, pinks, and more. Their different colorings make them versatile and allow the wearer to find a color that suits their wardrobe and personality. The gem saw its popularity rise during the Victorian era and remains a popular choice today.
Red garnet tends to be the most common, while green is usually the rarest and famous color. Garnet, while not as hard as diamonds or sapphires on the Mohs hardness scale, is great for jewelry worn on special occasions. The gems color variety makes it a versatile gift that makes a wonderful birthday present or gift in general.
When you're shopping for a piece of designer jewelry, it's best to choose a jeweler who knows gemstones, can advise you on what best suits your needs, and is willing to answer any questions you have to ensure you make the right choice.
The expert jewelers at Charles Schwartz have been assisting customers since 1888 with all their designer jewelry needs. Whether you're looking for a gift or something for yourself, we can help you find what you're looking for. We can discuss the occasion, who your recipient is, and go over the specifics of each stone, so you know what you're purchasing and how to keep it looking beautiful for years to come.
To schedule a consultation with one of our expert jewelers and find the perfect piece of garnet designer jewelry in DC, call 202-363-5432 or click here.