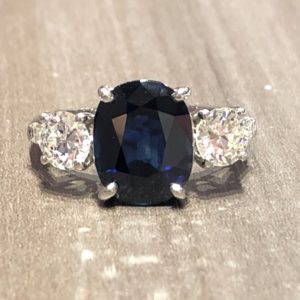 While diamonds are traditionally the go-to gem for engagement rings in Washington, DC, Etsy has named birthstone engagement rings as one of their wedding trends of 2019. Colored rings are a great alternative to traditional diamonds and allow brides to show off their individuality.
"2019 is all about putting a twist on traditional styles." according to Etsy's trend expert Dayana Isom Johnson. She continues on to say that brides want to express their personal style which is why alternative gemstones for DC engagement rings will be on the rise this year. Read the full article from Elle magazine here.
DC Engagement Rings: It's Important to Figure Out What Stone Suits Your Style and Make Sure It Will Stand the Test of Time
It's very important when selecting a gemstone that you find something that can stand up to every day wear and tear.
When selecting a non-traditional engagement ring, it is crucial to consider the hardness of the gemstone. Each precious stone corresponds with the Mohs' Scale which rates the hardness of a stone from 1 to 10. Diamonds rank 10, being one of the more durable stones. Many other gemstones rank pretty high on this scale, but some thank rank lower need to be considered to make sure the gem fits your lifestyle.
 Alternative Gemstones for Your Engagement Ring
Ruby: With its intense, red color the ruby without a doubt is a timeless, beautiful stone that rates a 9 on the hardness scale.
Sapphire: Ranked in high popularity alongside a diamond, sapphires are a great alternative. While typically blue, the stone can vary in color with hues of yellow, purple and even orange. This stone receives a rating of 9 on Mohs' Scale.
Aquamarine: With its green-blue color there is no wonder this is a favorite of many. Aquamarine rates a 7.5 to 8, so with extreme wear it may show signs of scratching overtime.
Emerald: Emeralds symbolize love and new beginnings, making it a popular choice. Like aquamarine, they rate at a 7.5 to 8 on the hardness scale.
 Choose the Experts at Charles Schwartz to Help You Select the Perfect Engagement Ring in Washington, DC.
 Whether you plan to shop for your ring with your partner, or plan to completely surprise them, we are here to help you find that forever ring.