If you own several diamond-studded jewelry staples, it may be difficult to choose from your favorites each and every morning. Lucky for you—the layered look is all the rage this season! Here are a few pro tips for layering and stacking jewelry—straight from DC's Oldest Jeweler: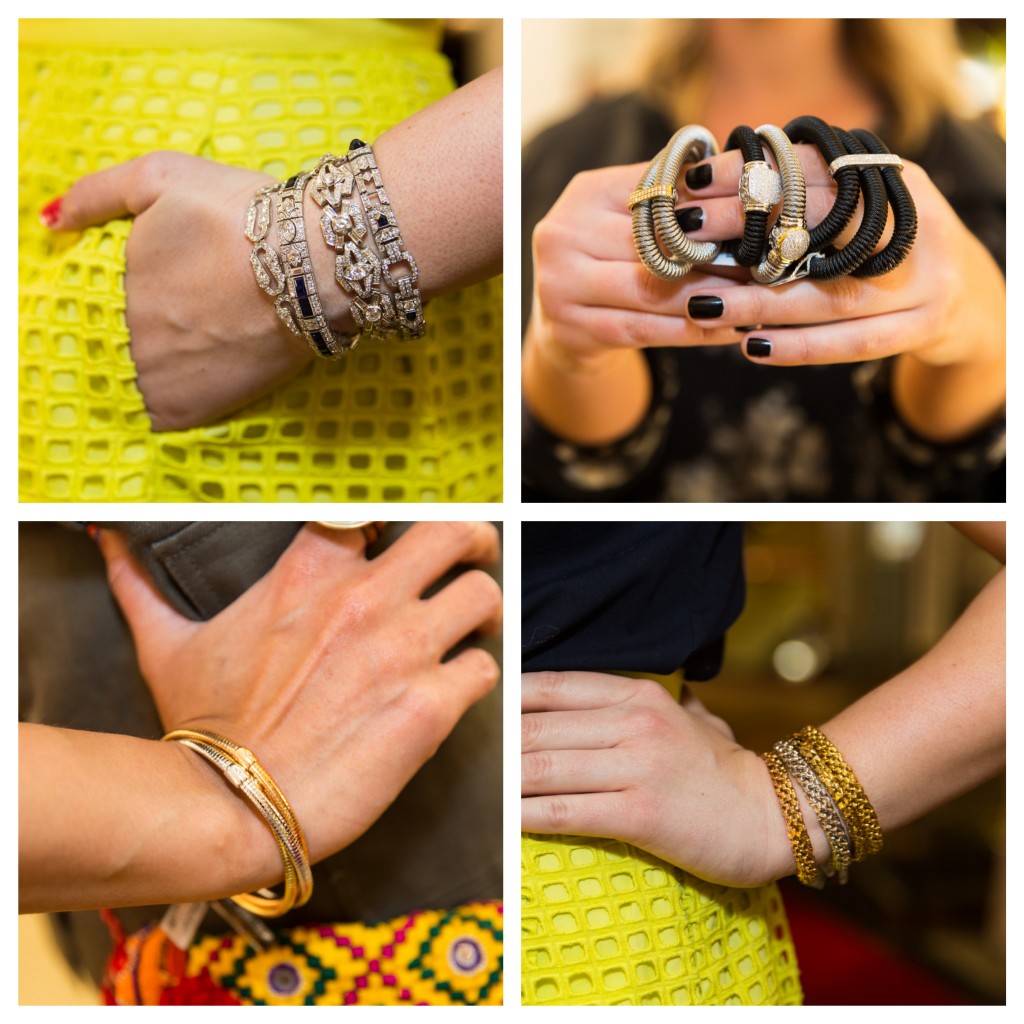 Mixing Metals & Textures: This spring do more than just mix metals, mix textures as well! Wearing a combination of metals and textures is absolutely in this season—from simple metal-intensive designs like this bracelet Tanvii of Tanvi.com is wearing (bottom left) to textured bracelets like these Chimento bracelets worn by Kristyn of Primp & Proper, or these Alor bracelets modeled by Ashley of Ashley in DC (top right).
Bracelets like this Aerial Bangle by Hearts on Fire are perfect for this spring's layering and stacking trend, with its simple, elegant style. Even stand-out bracelets like Copley Single Station Bracelet by Hearts on Fire will meld perfectly with a variety of bracelet styles and metals! This Multi Row Cable and Diamond Station Bracelet by ALOR is yet another way to mimic the chic layered-textures look!
Looking for a more diamond-studded style? Consider layering a few diamond bracelets, like Kristyn of Primp & Proper (top left), with a few of our art deco-inspired diamond bracelets from our Estate Collection.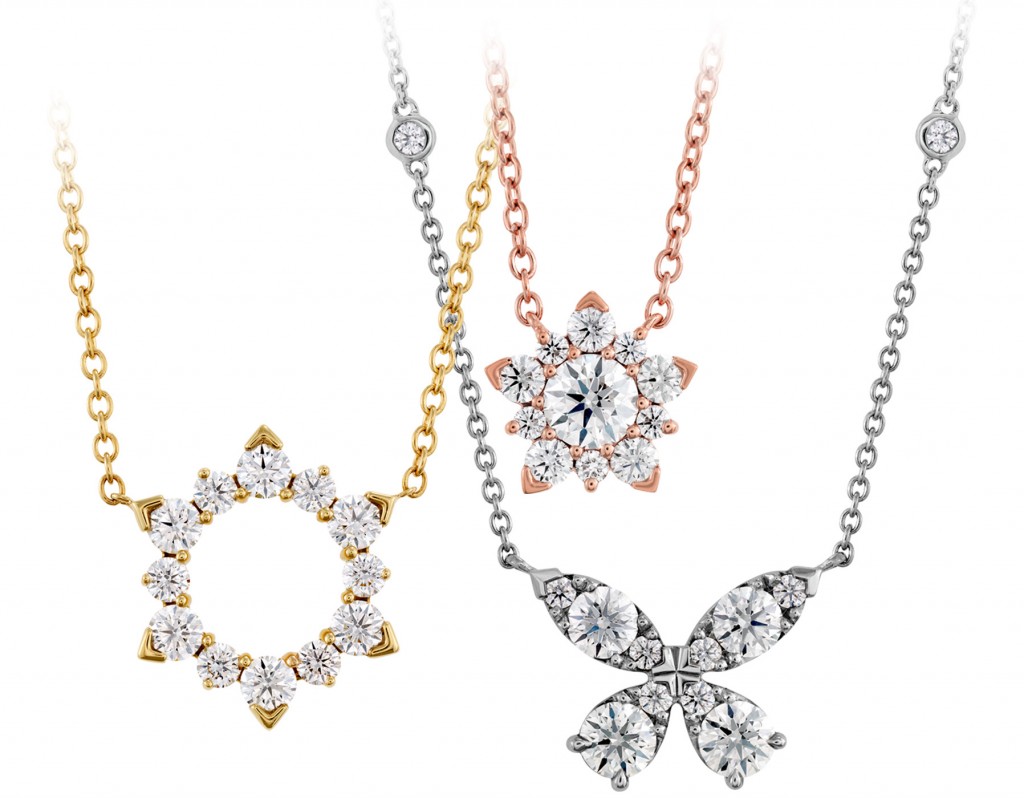 Pairing & Layering Necklaces: Layering gives you the flexibility to incorporate a variety of metal colors and styles into one fashion-forward outfit, instead of having to choose just one—what a fun idea! Mixing and matching smaller trendy necklaces at varying lengths, like pieces from Hearts on Fire's Aerial, Copley or Lorelei Collections will surely give you a fresh, beautiful look every time! Simple, sophisticated necklaces like this Aerial Triple Diamond Necklace sport a perfectly refined look on their own, so why not pair a few of your favorites, like this Aerial Cluster Pendant or Aerial Eclipse Pendant for a truly stunning look? Layered necklaces pair well with a variety of outfit necklines and styles—from chic afternoon outfits to stunning evening wear.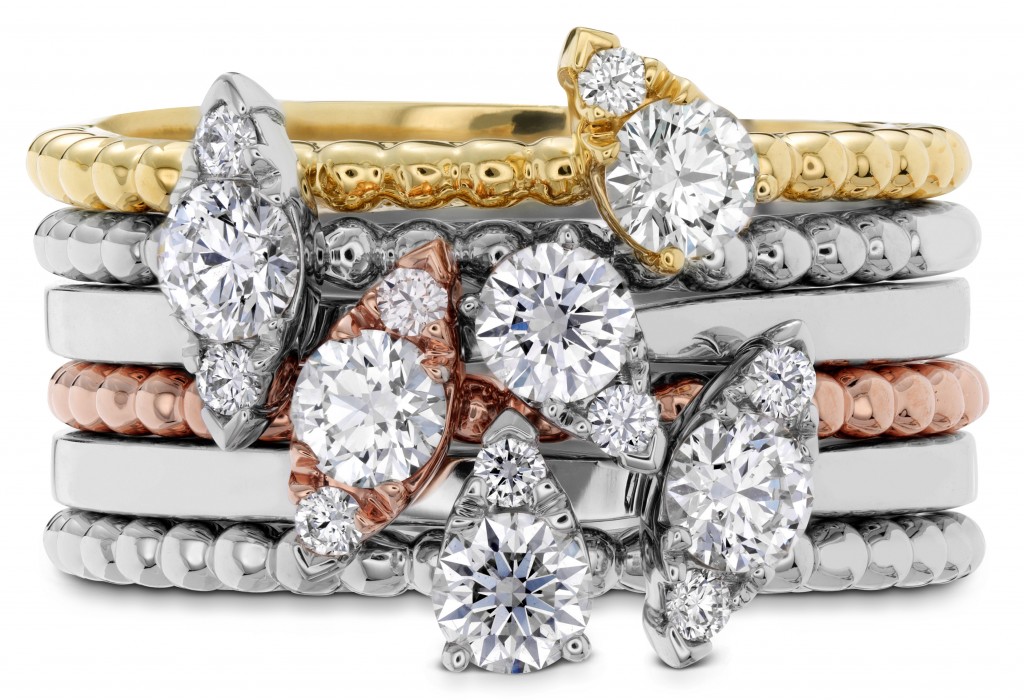 Stacking Bands: Can't decide which of your beautiful bands to wear? Don't choose—stack! This spring, ring stacking is for more than just wedding bands! Just as we've seen with necklaces and bracelets this seasons, bands like these Aerial __ and Copley Center Bezel Band and Copley Side Bezel Band by Hearts on Fire are perfect for stacking or wearing alone with this simple yet elegant diamond-studded designs. Choose a few of your favorite bands and you're good to go!
So don't be afraid to layer a few of your favorite necklaces, bracelets or bands this spring. With this lovely emerging trend you can mix and match your favorite pieces to your heart's content! For more tips from DC's Oldest Jeweler  check out the rest of our blog or visit one of our two locations for hand-on help from our knowledgable staff!