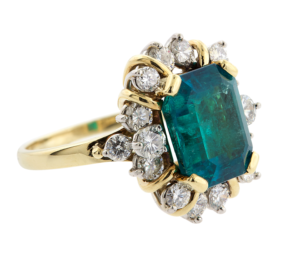 The emerald is a unique gem that can be found in various DC vintage jewelry pieces. The color is vibrant, which is why it makes a great gift. For those born in the month of May, the emerald can be especially expressive because of the connection to their birth month.
Let the experts at Charles Schwartz help you find the perfect piece of vintage jewelry in DC.
With over 125 years of experience, the experts at Charles Schwartz & Son are here to help you the find the perfect piece of emerald DC vintage jewelry.
Vintage pieces are one-of-a-kind, just like your someone special. They are often handmade, always distinctive and even sometimes created by techniques no longer practiced today.
There are so many options you have when gifting an emerald piece of jewelry. From cocktail rings and bracelets to earrings and necklaces the opportunities are endless.
At Charles Schwartz, we have a wide selection of DC vintage jewelry to choose from, such as this 4.21 carat emerald cut Colombian emerald, surrounded by 1.10 carats in round brilliant diamonds. The emerald has an American Gemological Laboratories Report, stating the origin and other features of this gemstone.
About emeralds
Emerald, derived from the word "smaragdus," literally means "green" in Greek. The beautiful gem is mined all over the world, including countries such as Colombia, Afghanistan and Brazil. According to the American Gem Society, the emerald can be estimated at 2.97 billion years old, and was mined in Egypt as early as 330 B.C.
The Emerald has historically been prized by the wealthy, from Cleopatra, who claimed ownership of all emerald mines during her reign, to Elizabeth Taylor's famous emerald pendant selling for $6.5. million in 2011.
Read more about May's birthstone here.
As the oldest jeweler in DC, let us help find your next DC vintage jewelry piece. We look forward to hearing from you!