Popping the question? Here's your guide to the best engagement rings in DC
If you're here, it means you have decided to take one of the biggest steps of your life. Asking your significant other to marry you is a very special moment and we want to make sure you have an engagement ring that is just as special.
At Charles Schwartz & Son, we have something for everyone. Our collection ranges from all different shapes, sizes, eras, and colors. Tell us about your dream ring and we'll help you find the perfect one.
We are one of the oldest jewelers in Washington, DC. We have been based in the nation's capital for well over 100 years, and we take immense pride in our name as arguably one of the most recognizable and finest jewelers in DC. Our expert jewelers will walk you through the process of finding engagement rings in Washington, DC.
Charles Schwartz & Son has been providing the most beautiful engagement rings to the DC area for decades. Our jewelry experts have experience with knowing how to meet your needs and exceeding your expectations.
Deciding on the parameters for your engagement ring can be a stressful process. Even after you've figured out your budget, stone, shape, setting, and style, it can still be stress-inducing to look at all the options you are presented with. When looking for a ring, it's important to choose a style that reflects the person that will be wearing it. Knowing what stone or shape you want can help our expert jewelers help you get one step closer to picking out your perfect ring.
You can trust us to show you engagement rings unlike anything you've seen before, including: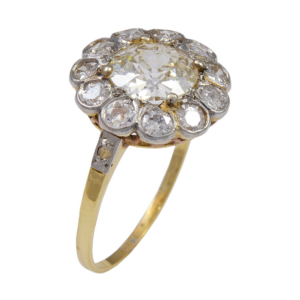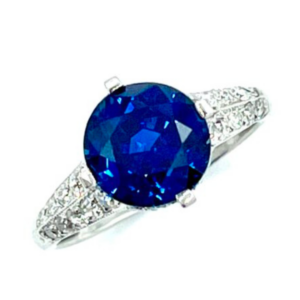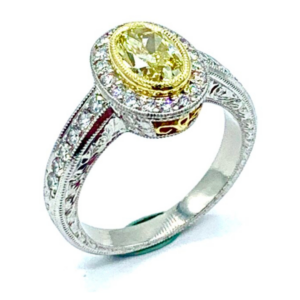 We have the perfect engagement ring for every bride, whether she's modern or traditional, minimal or maximal, classy or funky. Our rings range from various time periods including 1960s, 21st Century, Art Deco, Edwardian, Late 20th Century, Modern, Retro, and Victorian. Each ring has its own love story, just as every couple has theirs. Our unique engagement rings feature:
sapphires
Columbian emeralds
diamonds
rubies
fancy yellow diamonds
aquamarines
white opals
amethysts
enamels
and so much more!
When deciding which ring to choose, it's important to consider all factors. Buying an engagement ring is an investment, so you want to make sure you make the right choice. Here are some elements to consider:
Durability- Diamonds and gemstones found in engagement rings are extremely durable. While rubies, emeralds, and sapphires are some of the more common durable gemstones, there are many other options for stones that are equally as durable and beautiful.
Style- The style of a ring is largely decided by the preference of the person buying it. Engagement rings can be ready to buy or custom-made to your preferences. This ensures a wide range of options for every person. In addition to choosing a unique gemstone, the cut of the stone, placement & positioning on the ring, use of additional gems, and ring color are all customizable options.
Color- While some gemstones are only found in one or two colors, certain stones can range anywhere from pink and purple to green and blue. In addition to being able to choose the color of a stone, there are also factory-colored diamonds, which can allow your gemstone color horizons to be expanded even more.