Wedding season is in full swing, and if you're getting married or attending a wedding this year, you're probably looking for the perfect special occasion jewelry. Whether you're looking for a classic engagement ring or a statement necklace, there are plenty of great options to choose from in the DC area.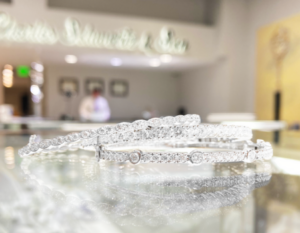 One of the best places to find special occasion jewelry is Charles Schwartz & Son. We offer designer, vintage, and antique jewelry. Everything from necklaces, earrings, and brooches to necklaces, we have a huge selection for you to find whatever jewelry you need for your special occasion.
Charles Schwartz & Son has locations in Washington DC in the Barlow Building and Chevy Chase at The Willard Hotel. We also have an online store that makes it easy to shop from anywhere.
Charles Schwartz & Son offers a wide variety of jewelry to choose from, including:
We offer a range of antique, vintage, and designer jewelry.
Antique jewelry: Our antique jewelry is all over 100 years old. One-of-a-kind pieces to make your special occasion as memorable as possible.
Vintage jewelry: Our vintage jewelry all have stories of their own. One of our vintage pieces adds a little extra to your already special day.
Designer jewelry: We carry over 40 designers from Cartier to Tiffany and Co. Sometimes there is nothing better than elevating your special day with a luxury piece.
Our team of experts can guide you in choosing the perfect piece to complement your special occasion outfit. Whether you prefer a classic, sophisticated look or something bold and unique, we have you covered.
We also have a wide variety of styles to choose from, including:
Charles Schwartz & Son carries a wide array of different types of jewelry to cover all your special occasion jewelry needs.
Bracelets
Necklaces
Engagement Rings
Rings
Cufflinks
Brooches
Earrings
Watches
Wedding Bands
And MORE!
We will find a piece to match your special occasion outfit this wedding season!
Here are some additional tips for choosing special occasion jewelry:
Once you have the special occasion jewelry piece you want to know, you need to know how to style it. When styling your special occasion piece, consider the following…
What style are you going for? If you are going for a more classy look, maybe go for more subtle pieces, less flashy. You want the piece to elevate and blend into your outfit rather than stand out. While if you are looking for a more funky and unique outfit, maybe pick one piece to center the outfit around. Something like a chunky necklace or big earrings.
What is the occasion? Are you going to a wedding or an anniversary dinner? Determining what occasion you are going to will help you determine how you want to stand out or blend in. This can help with styling your special occasion jewelry.
Is it a statement piece or a subtle accessory? Do you want one big piece or multiple small pieces? Determining what occasion and style you want to go for can help impact whether you are looking for a statement piece or a subtle accessory.