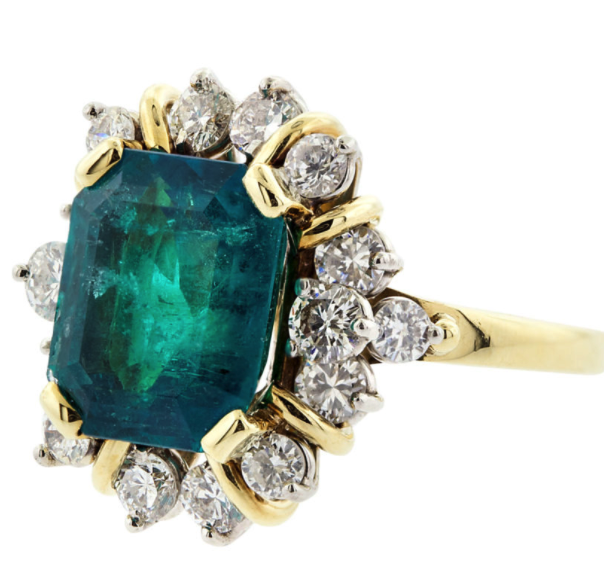 In recent years many couples have opted for gemstone engagement rings vs. the typical diamond engagement ring, but if you're still on the fence we may be able to help. At Charles Schwartz, we have a wide variety of vintage, antique, and brand new designer engagement rings with both gemstone and diamond stone options.
There are a few key differences between gemstones and diamonds including:
Price– While this isn't always the case, gemstones tend to be a cheaper option than diamonds allowing you to get a larger stone for the same price.
Durability– Each gemstone has its own range of durability which may play a factor in your decision making. Diamonds and sapphires are typically stronger and more durable whereas stones like emeralds and aquamarines aren't quite as strong. However, your jeweler can talk about each stone and help you figure out what's best for you. Read more about each stone's durability here.
Appearance– Perhaps the most obvious difference is the appearance. Many brides prefer the classic look of a diamond but for those who want something outside the norm with a pop of color, a gemstone may be perfect.
What We'll Discuss During Your Consultation for a Gemstone Engagement Ring
During your consultation, we'll go through your budget, style preferences, and any questions you have. We can guide you through our vast collection and if you're still not seeing your dream ring we can create something custom. We know you want your proposal to be perfect and that starts with the perfect ring. Our expert jewelers have been helping customers find jewelry they love since 1888 and are ready to help you find your dream ring today.
To schedule a consultation with Charles Schwartz and learn more about our gemstone engagement rings give us a call at 202-363-5432 and browse some options here.