Have a specific vintage engagement ring in mind? Want your partner to pick out the perfect one? Charles Schwartz & Sons knows how important it is to find the perfect ring for you, your love, and your future (we've been doing this since 1888!).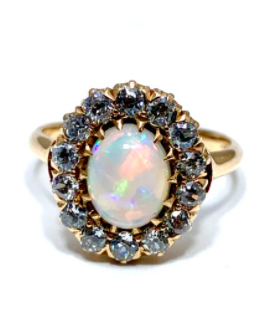 There is no other better place to start than at Charles Schwartz & Sons for the engagement ring of your dreams. While vintage pieces are relatively popular it can be difficult to find high-quality pieces for a great price.
Started by the Schwartz family in 1888 and passed on to the Pastor family in 1984, Charles Schwartz & Son is your family and vintage engagement ring jeweler. Charles Schwartz & Son Jewelers has had the honor of servicing the dignitaries of Washington and the world. We invite you to stop in and visit us at any time at one of our various locations!
We've been helping our customers find the perfect pieces of estate, antique, and designer jewelry that is personalized for them. We have a passion for gorgeous jewelry and our expert jewelers are highly trained.
The experienced team at Charles Schwartz & Sons is passionate about fine vintage, antique, and new designer jewelry pieces and loves to help customers find gorgeous pieces to add to their collections.
Sometimes our loved ones need a heads up, and we are here to help!
Style is very important when it comes to vintage ring shopping as there is a lot to choose from. We have countless settings, metals, eras, and stone combinations that can create the ultimate vintage wedding ring of your dreams. Customers can browse our website or visit our showrooms for engagement rings of different time periods, stones, and styles, until locating the perfect match.
After sifting through our countless vintage engagement rings, you can then start to hint at your partner what ring or style speaks to you. There are lots of vintage engagement ring gems, stones, and styles that transcend time and create a priceless ring to express your love.
Slide styles into the conversation! "Wow, look at this, I've never seen an Art Deco ring like this, I love this style." You can also call one of our expert antique and vintage jewelers to help educate yourself on the exact ring and style you are looking for or hoping to receive.
Jewelry has played a significant role in society, capturing the hearts of many with a wide variety of ever-changing trends, designs, and fads throughout history. The estate jewelry experts at Charles Schwartz & Son are well-versed in dating and classifying estate jewelry and are happy to answer any questions you may have about estate jewelry.
You can read about the different vintage engagement ring eras on our website, as rings, vintage jewelry, and antique pieces, in general, have a specific style!
There's nothing better than reminding your partner about weddings, life, and vintage rings on social media! A simple DM, tagged post, comment, or story will have your partner thinking about your future.
Grab a picture of your ideal vintage ring from our vintage jewelry website, Instagram, and even Tik-Tok before sharing it to your personal story. Our rings will definitely grab your partner's attention!
Check out our Instagram page for more unique, high-definition photos to share on your story or dm for the perfect plan.
Mom, Dad, siblings, and friends to the rescue! There's nothing better than having your friends and family carry out the perfect plan. You can explain to your closest confidants what you are looking for. Start an email thread to break up the day at work, and send your family links to the perfect vintage engagement ring.
You can send your favorite collection of vintage rings off the Charles Schwartz & Son website to your family and friends so they can show your partner for future reference. Pick four of your favorites and get to sharing!
If that doesn't work? Bring your partner to our stores to try on some beautiful vintage pieces of jewelry. Buying a vintage engagement ring can be a magical experience! We have a curated selection of engagement rings, estate jewelry, antique jewelry, and designer jewelry for our exceptional customers to choose from.
Your DC Vintage Engagement Ring Search starts at Charles Schwartz & Sons. When you come in for a consultation we'll discuss your budget, style preferences, stone preferences, and timeline to come up with a few options for you. We're prepared to help you buy a ring today or simply help you narrow down your search for the right ring.
Our highly knowledgeable team aims to help you find the perfect vintage engagement ring for your proposal and get you exactly what you're looking for.  Please browse online or feel free to visit our locations any time.