When you decide you're ready to propose to your significant other, it's one of the most exciting times in your life. But, now that you've found the person you want to spend the rest of your life with, you need to find the ring that they'll wear for the rest of theirs.
What You Need To Know When Choosing an Engagement Ring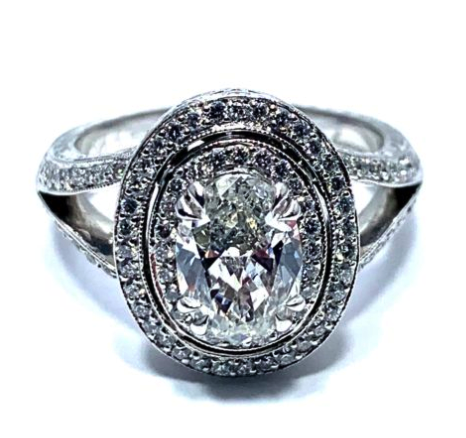 There are several questions you need to answer before going engagement ring shopping:
What is your budget? It is incredibly important to decide on a budget prior to ring shopping. You don't want to fall in love with a ring only to find out it's outside of your budget. When you come in for an appointment, we'll discuss your budget before getting started and go through several options so you can make an informed decision moving forward.
What is the style of ring you want? – Are you considering a halo engagement ring, a solitaire, three stone, or something entirely unique? Many brides have an idea in their head of what ring style they're looking for, but even if you're at a loss of what style to choose, we can help.
Do you want a gemstone or diamond ring? Choosing a gemstone vs. diamond ring can be a difficult choice. While some brides are set on the perfect diamond ring, others are interested in something more unique such as a gemstone ring. We'll walk you through your stone options so you can find the perfect ring.
Do you want something new or vintage? We have a range of engagement rings to choose from. From solitaire engagement rings to gemstone cocktail rings we've got something you'll love. But, even if you're unable to find "the one" in our collection, we can help you craft a custom engagement ring fit for your significant other.
Our team has been working with customers in and around the Washington, DC area since 1888. We buy, sell, and repair jewelry of all types. We have a vast collection of designer, vintage, and antique jewelry and are ready to help you find the right piece for you.
Read a review from a past customer:
"I just had a wonderful experience at this jewelry store, upon which I stumbled when visiting Mazza Gallerie. I was assisted by Michael, the most personable and knowledgeable salesperson I have ever met. When I return to this store, which I plan to do, I will be checking to see when he is working. I also had the pleasure of meeting the owner, who shared interesting and valuable information about the watch I was purchasing. I highly recommend this company!"
To schedule an appointment with one of our expert jewelers to find the perfect engagement ring for your proposal call 202-363-5432 or reach out online.