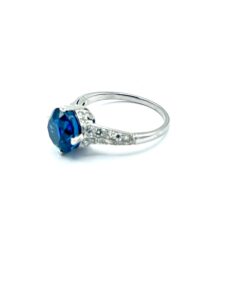 This is a question we're frequently asked. If you have high-value, rare, or otherwise valuable estate jewelry you're looking to sell, Charles Schwartz is here for you.
We have years of experience buying estate jewelry in DC.
We are discreet and will value your estate jewelry quickly so that you can decide whether or not you'd like to sell it.
How to sell your estate jewelry in DC:
Step 1: We'll assess your piece(s)– When you come in for an appraisal, we'll begin by assessing your piece to observe its condition, assess the metals and gemstones, as well as the rarity of the piece. Our jewelers are highly trained professionals and have years of experience in providing appraisals for antique and estate jewelry.
Sept 2: We'll provide an offer for your estate jewelry– Following the assessment of your jewelry, we'll provide an offer that is fair for your piece. We believe in complete transparency during our process, and we will happily explain our appraisal and answer any questions you have so you feel comfortable and informed, and understand the valuation.
Step 3: We'll purchase your jewelry– No waits, no auction fees involved! If you decide to move forward and sell your piece to us, we'll pay you on the spot and then help the pieces find a new home where they can be enjoyed and worn frequently. If you find yourself in need of another piece while you're in our store, we can also guide you through our collection to find you something new for you to enjoy.
We have a passion for jewelry and love to help people find pieces that they love and can use for years to come. Whether you're stopping by to pick up something new for your collection or you're looking to sell pieces you no longer need, we're ready to help you.