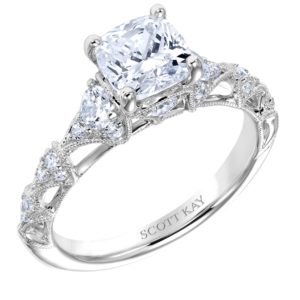 You've likely heard of the four C's of engagement rings, but you may not understand them or why they're important. Understanding the four C's can help you find the perfect engagement ring in DC for your partner.
The Importance of the C's When Choosing an Engagement Ring
Carat– This refers to the weight of the diamond. One carat is equal to 0.2 grams; however, a carat does not measure the size of the diamond. For example, different shapes of diamonds that are the same carat weight can appear larger or smaller than others. Our jewelry experts can show you the differences between diamond cuts and how that affects the appearance of size.
Cut– Cut, as previously mentioned, can completely alter the appearance of a ring. The cut affects the ability of the diamond to reflect and refract light, making it sparkle and appear more beautiful. There are all sorts of cuts, ranging from round to square and everything in-between, so if you're not sure where to start, we can walk you through each type.
Clarity– The clarity of a diamond refers to the internal characteristics of your stone. Diamonds can have blemishes within them which affect clarity. These blemishes are naturally occurring and may not even be noticeable without magnifying.
Color– Diamonds are not necessarily considered "clear," meaning that diamonds can have different tones. For example, icy clear white diamonds usually look best with silver, white gold, or platinum bands. Diamonds with a yellow, pink or blue hue tend to look wonderful with rose gold and yellow gold bands.
Choosing the right engagement ring is a huge decision. It represents the love you have for one another and is likely what they'll wear for the rest of their life. It's important to understand the four C's and what fits your significant other best.
It's essential to talk with them about likes and dislikes and discuss with one of our jewelry experts. We can help you choose a ring from our wide selection or create something custom. We'll make sure you get a ring that fits perfectly.
Call us today at 202-363-5432 or reach out online to discuss our DC engagement ring selection.