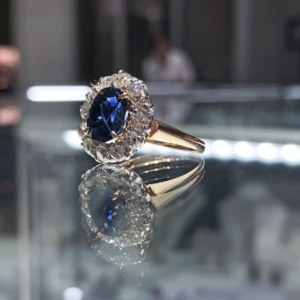 While ordinarily choosing an engagement ring can be a stressful time, the experts at Charles Schwartz are here to let you know you can rest easy. We will walk you through the whole process of choosing the perfect ring.
Personalized Pieces Speak Volumes: Why You Should Create a DC Custom Engagement Ring
While all the options on the market may be daunting, consider creating a DC custom engagement ring to ensure that from the start of this process, to the moment it goes on her finger, it will be as special as your relationship.
It's important to love every aspect of your ring, and one way to guarantee this is by creating your own custom engagement ring. Consider the following before creating your custom ring:
Budget – Create the perfect ring, for your perfect budget. This is a very practical and important matter to think about beforehand. You don't want to go into the process and create the ring only to realize it is way outside of your price point!
Understand Basic Diamond Terminology– Understand the four C's of diamonds: carat weight, cut, color and clarity. Diamonds vary in price based on these four C's, so knowing what to look for will help you during the process.
Know Her Style –Think about what type of jewelry she usually wears as keeping her preferences in mind will help decide on the ring's style.
Creating Your Own DC Custom Engagement Ring Also Gives You the Opportunity to Choose A More Unique Center Stone.
Diamonds are a popular choice, but both sapphires and emeralds are trendy because of the unique color.
Whether you plan to surprise your partner or to shop for your ring with them, we are here to help you create that forever ring.