Charles Schwartz & Son is the oldest jeweler in Washington, DC. We have been based in the nation's capital for over 130 years and take immense pride as one of the DC area's most recognizable fine jewelers.
Our experts take great care in meeting the jewelry needs of our customers; whether it be to refurbish a family heirloom or find the right gift for a special occasion, Charles Schwartz & Son is here to serve you.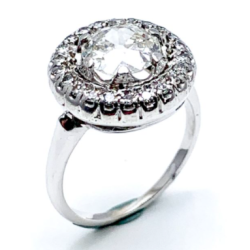 Did you know you can purchase vintage and antique jewelry online and in person? Charles Schwartz & Son sells vintage, estate, and antique jewelry in both our stores and online!
We have locations in Chevy Chase, MD, and Washington, DC.
Our Washington DC store is located in The Willard Hotel at 1400 F Street NW, Washington, DC 20004.
Our Maryland location is in the Barlow Building at 5454 Wisconsin Ave, Suite 404 (ground floor next to the entrance), Chevy Chase, MD 20815.
At both of our Washington DC metro area locations, we offer vintage pieces, estate pieces, antique pieces, and more.
We have a variety of pieces, such as:
Engagement rings
Diamond Rings
Watches
Bracelets
Rings
Cufflinks
Earrings
and more unique pieces!
The jewelry we sell can come from a variety of different time periods. This can include the Retro Era, Art Deco Era, and more. The estate jewelry includes pieces from the Edwardian Era, Victorian Era, and more.
We not only sell antique, vintage, and designer jewelry but offer watch repairs and other jewelry refurbishments in the DC area.
Get The Best Price For Your Antique Jewelry In DC
Did you know Charles Schwartz & Son also buys antique jewelry? Our staff of antique jewelry experts will evaluate the piece (or pieces) of unique antique jewelry that you bring in, offering the best possible price. We work to treat each and every customer with the utmost care, professionalism, and confidentiality.
When selling your jewelry and or watch, it's important to note the age and quality of your piece to get a better sense of its history. A piece of jewelry is considered "antique" if it is over 100 years old. Antique jewelry was crafted from high-quality materials with a superior level of craftsmanship, leading to sturdy, high-quality pieces.
Charles Schwartz & Son purchases fine antique jewelry and gems from a variety of jewelry eras, including:
Georgina Era (1717-1837)
Victorian Era (1837-1901)
Arts and Crafts Era (1894-1923)
Edwardian Era (1901-1915)
Art Nouveau Era (1895-1915)
For example, the Georgian Era dates from 1714 to 1837, during the reigns of English Kings George I, George II, George III, and George IV. Many types of truly exquisite jewelry were handcrafted during the Georgian Era–such as brooches, hairpieces, necklace and earring sets, bracelets, and rings.