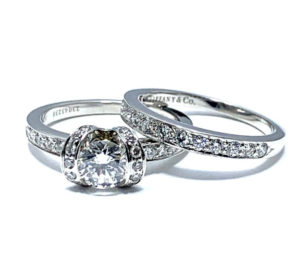 Thinking of popping the question on Valentine's day and want to find the ring she'll say "yes" to? Trust the experts have Charles Schwartz to help you find the perfect engagement ring for her.
Budget– You should have a budget in mind before looking at engagement rings, so you go in knowing what's affordable. Once we know your budget, we can discuss ring options and show you rings that fit your budget that she'll be sure to fall in love with
Setting– This is something you'll likely want to discuss with your significant other prior to shopping for an engagement ring. Does she want a halo, a pave setting, a solitaire, or something completely unique and custom? This is the ring she'll wear for the rest of her life; you want to make sure it's what she wants.
Stone– Gemstone engagement rings have seen a rise in popularity for a variety of reasons. Some brides love them, some brides prefer a diamond, and some brides want a mix of the two. You should discuss this with your significant other to see if she's a diamond, sapphire, or emerald type of girl. We have a wide selection of diamonds as well as gemstone rings for you to consider.
Why You Should Turn to a Trusted Jeweler for an Engagement Ring in DC
It's important to talk to a jewelry expert before purchasing a ring. Many people in today's world buy rings online without even discussing it with a jeweler or seeing it in person. Seeing a ring in person can be completely different from seeing it online, and if you're unfamiliar with jewelry you may not know precisely what you're looking for.
Our jewelry experts can explain the benefits of each style of ring as well as facts about durability. We'll also help you create something custom if you choose and be by your side throughout the entirety of the process.
To schedule an appointment with one of our expert jewelers for your DC Engagement Ring purchase, call 202-363-5432 or click here.