Antique jewelry is a unique, one-of-a-kind, and an incomparable way to show your love for someone (or yourself)! However, it can be hard to find your perfect piece, if you are unsure of what to look for or where to go. The options are endless but finding a one-stop-shop doesn't have to be – Charles Schwartz & Sons has you covered.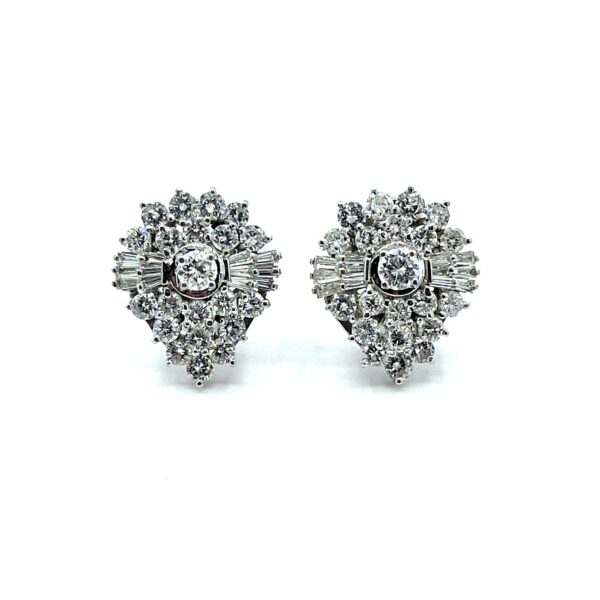 Antique rings, bracelets, and earrings require expert knowledge and care. Charles Schwartz & Sons provides information on the type of antique, estimates for selling antique jewelry, and offers exquisite pieces for sale.
Jewelry is known to play a vital role in society, enamoring the hearts of many with wide choices that mirror changing trends, evolving designs, and obsessions throughout our world history. At Charles Schwartz & Sons, we are experts in estate and antique jewelry, well-trained in the datings/classification of vintage and antique pieces.
We are happy to answer any questions or concerns you may have about your jewelry, to help you decide to buy, sell, or just learn more about the piece you are interested in.
Charles Schwartz & Son is Washington DC's oldest jeweler. We are based in the nation's capital with surrounding stores, for over 100 years. At Charles Schwartz & Sons we take immense pride in our name as arguably one of the most recognizable and finest jewelers in the D.C. and Maryland area.
We take care in providing the utmost service, whether it's purchasing a new designer and or vintage piece, refurbishing a priceless family heirloom, or selling your vintage jewelry.
At Charles Schwartz & Sons we have a large variety of antique jewelry pieces. These can range from engagement rings to cufflinks, or even coin change purses! The options are endless and provide a great deal of opportunity to find the perfect piece that represents you.
In order for a piece to be considered "antique", it is usually over 100 years of age. Typically antique jewelry was crafted from very high-quality materials and superior craftsmanship, to curate sturdy and high-end pieces.
These reasons establish its integrity as such as old age and give insight into why there is a scarcity of antique pieces. These pieces are often too valuable to be worn or even displayed. If you are interested in selling one of your antique pieces, Charles Schwartz & Sons can assist you.
Selling Antique Jewelry
At Charles Schwartz & Sons we also buy antique and vintage jewelry pieces. Our experts provide estimates and knowledge on the type of piece you have and what it may be worth.
If you are ever curious about what era your estate or antique jewelry may be prior to your consultation with Charles Schwartz & Son, you can read about what makes each piece unique and distinct to its era on our website.
Some quick tell-alls can be from the metal and gemstones that your piece may have. Metals are incorporated into the design of a piece. Along with the metal's karat weight, this can tell us a great deal about the potential age and relative origin of the jewelry.
The gemstones also provide knowledge about high-end jewelry, as it has been a staple for centuries. The popularity of specific gemstones can help determine the era your piece may have come from.
Era motifs are also common for antique and estate jewelry as they are the easiest "give away" to knowing a piece's era of origin.
At Charles Schwartz & Sons we buy fine jewelry pieces from the following antique eras including:
The Georgina Era (1717-1837)

The Victorian Era (1837-1901)

The Arts and Crafts Era (1894-1923)

The Edwardian Era (1901-1915)

The Art Nouveau Era (1895-1915)
Who knows what jewelry you maybe have tucked away for safe-keeping! Two vintage jewelry eras such as The Art Deco Era and The Retro Era may be in your collection.
The Art Deco Era (1915-1935)
The Art Deco Era occurred between 1915 through 1935. Art Deco began during the time of jazz, where technology was growing and urbanization was combined with consumerism. The jewelry created from the Jazz Age, always known as the Roaring Twenties, was inspired by recent advancements society was seeing in architecture, technology, and more.
Art Deco jewelry has been well known for its abstract patterns, diamond-focused designs, detailing, and distinctive style. During this time, women celebrated the unprecedented and decadence of the years by styling diamonds, emeralds, rubies, and sapphire-encrusted jewelry.
During this time, the most popular jewels became diamonds, emeralds, rubies, and sapphires, creating the stunning jewelry we find around the world today. You can also find cultured pearls as past tof this ear, seen on evening-wear pieces, art deco clips, and brooches.
Designers during this time included Cartier, Tiffany & Co, and Van Cleef & Arpels and were amongst some of the top creators.
The Retro Era (1945 – 1960)
Retro-style jewelry began in France as a whimsical distraction from the destructive horrors of World War II. This specific era has big, bold, and oversized designs to mirror the glamour of the Hollywood lifestyle.
Retro jewelry, also known as cocktail jewelry, began with a number of fun and light designs that included birds, ballerinas, bows, and heart motifs. Gold became a significantly popular trend during the Retro era, extending to include rose gold, yellow gold, and green gold to the group.
Common stones and gems included citrines, aquamarines, topaz, rubies, and sapphires. You can often see these jewels in retro-era designs, covering the bright and bold pieces along with the smaller accented diamonds.
Popular designers during this time included Van Cleef & Arpels, Cartier, Bulgari, and Castelli. These designers were European pioneers in the unique styles of Retro jewelry. It was later adopted by American designers shortly after. Bulgari specifically became infamous for the remarkable work of "animalier" jewelry, jewelry in the shape of animals.
Look no further for your jewelry purchasing and selling needs than Charles Schwartz & Sons in the DC Area. Our Expert DC Jewelers are ready to help assist you in all of your jewelry needs.
You can visit our stores or give us a call at 202-363-5432